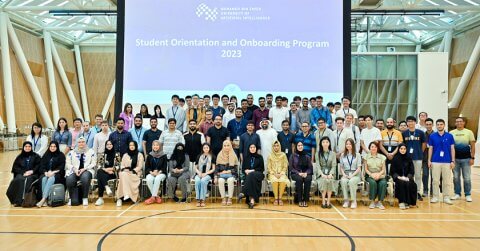 Mohamed bin Zayed University of Artificial Intelligence (MBZUAI) – the world's first graduate-level artificial intelligence (AI) university dedicated to research – welcomed its largest and most diverse class since its 2019 establishment.
Academic seats were competitive, with more than 4,000 applications received and an admission rate of 4.6 per cent. This latest batch has doubled the university's student body count, reaching close to 300 students. This growth is a true testament to the university's position as a leading institution in the AI landscape worldwide.
"The university is dedicated to harnessing the power of technology to address real-world challenges, and this diverse cohort of students is crucial to contribute to the advancement of AI and its positive impact on society and industry", MBZUAI's Acting Provost, Professor Timothy Baldwin, said.
"We are fostering the next generation of leaders in this transformative field and will proudly see them deliver an AI-centric positive impact on the world in healthcare, climate, and education, among other areas", added Professor Baldwin.
The 142 students represent 34 countries, with 95 studying for master's degrees and 47 pursuing Ph.D. degrees in computer vision (CV), machine learning (ML), and natural language processing (NLP). The university has continued to attract top students, with 22 students coming from the top 100 universities according to internationally recognized rankings such as CSRankings, QS World University Rankings, Times Higher Education World University Rankings, and the U.S. News & World Report Best Colleges Ranking. Additionally, MBZUAI expanded its international reach by welcoming students from countries including Armenia, Bulgaria, Dominica, Libya, Serbia, and Uruguay.
A key factor attracting international students to MBZUAI is the university's reputation for diversity and inclusion, complemented by its CSRankings, where it ranks among the world's top 20 universities in AI, CV, ML, and NLP.
In July, MBZUAI established two new departments and four associated graduate programs dedicated to robotics and computer science to meet surging global demand for the two disciplines, with market sizes for each expected to hit USD $225 billion[i] and $140 billion[ii], respectively, by 2030. The two new MBZUAI programs – offering both master's and Ph.D. degrees – will help to further develop the UAE's wider AI ecosystem and further position the country as an international hub for AI research and innovation.