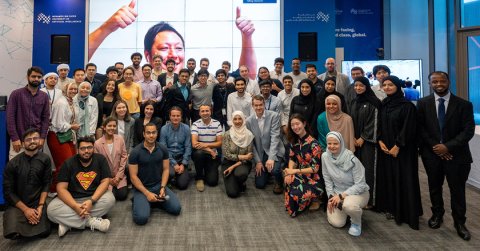 Mohamed bin Zayed University of Artificial Intelligence (MBZUAI) has welcomed 34 of the world's most promising STEM undergraduate students to its Abu Dhabi campus for a one-month research internship as part of the inaugural edition of the university's Undergraduate Research Internship Program (UGRIP).
Drawn from a large pool of applicants, aspiring researchers from the USA, Canada, Italy, India, and Singapore joined their counterparts from the UAE, Saudi Arabia, Egypt, and Morocco. Together, they built foundational artificial intelligence (AI) knowledge and skills by participating in several of MBZUAI's ongoing research projects in sustainability, education, and healthcare.
"Talent development is a pressing concern in AI, and identifying the next generation of innovators and leaders in AI is a core part of our remit at MBZUAI", MBZUAI's Acting Provost, Professor Timothy Baldwin, said. "The impressive number of applications we received from students at leading global institutions for our first UGRIP intake underlines Mohamed bin Zayed University of Artificial Intelligence's increasing prominence as a hub for graduate AI research. It also highlights Abu Dhabi as an attractive place to study, live, and work for motivated young individuals".
After a rigorous selection process, the 30-plus UGRIP interns selected lines of inquiry based on their academic and career interests. Those eager to tackle challenges like detecting and preventing fake news, developing chatbot technology, or advancing speech recognition engaged in projects within MBZUAI's Natural Language Processing Department.
Interns in the Computer Vision Department contributed to research ranging from AI detection of severe weather patterns to healthcare applications, including tumor diagnosis. Machine learning interns participated in a deeper dive into AI data and algorithms, aimed at making AI models more accurate and efficient.
From Italy, Massimiliano Viola, a University of Padova student majoring in computer engineering shared his experience after completing her UGRIP internship, saying: "Being part of the inaugural UGRIP cohort has been an extraordinary experience both professionally and culturally. The environment at MBZUAI made it easy to interact with fellow students and professors right from the start, and discovering Abu Dhabi and the local culture gave me a new way of looking at the world. During this internship, I improved my research and practical skills and connected with so many brilliant people from all over the world, making it truly unforgettable".
To complement their research and engaging discussions with some of the leading minds in AI, MBZUAI's inaugural interns also immersed themselves in the UAE's rich history and culture. Facilitated by the Abu Dhabi Residents Office (ADRO) and the Department of Culture and Tourism – Abu Dhabi (DCT), they visited key destinations such as Sheikh Zayed Grand Mosque, Qasr Al Watan, Louvre Abu Dhabi, and the Abrahamic Family House.
Undergraduates interested in internships with MBZUAI can find more information about the application process at https://mbzuai.ac.ae/ugrip/.