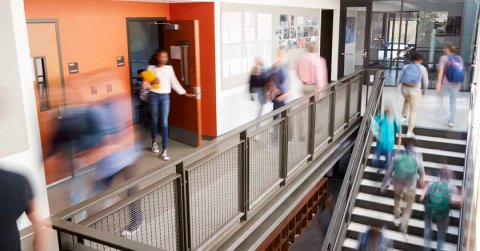 Education institutions need to maximise time and resources available for teaching and supporting students, while minimising their administrative workloads and costs. The latest digital solutions can support this critical goal based on process automation and tools that help students, teachers, administrative staff, and IT managers to work more effectively and productively. 
For education institutions of all types and sizes, helping students achieve their learning potential is the top priority. However, a wide range of administrative functions and processes are needed to support this core mission – placing significant demand on staff members' time and increasing operating costs.
To maximise time and resources available for teaching and student support, many educational institutions are implementing a range of new digital technologies. These can help by automating routine processes, speeding up staff and student management based on real-time data insights, and helping teachers to plan classes and deliver learning materials to students more quickly and effectively.
4 important ways digital education solutions can help education institutions maximize operating efficiency:
Saving time for teachers and students
With the latest digital classroom technologies, including interactive digital displays, teachers can share learning resources with students with a finger stroke. The best solutions of this type allow teachers to download all kinds of third-party teaching applications, allowing them to integrate a variety of valuable learning tools and materials into their lesson plans. These kinds of solutions also support convenient writing, erasing, recording, preparing, and instruction via the interactive display panel. Local and USB files can also be auto-classified for easy management and quick searches – allowing teachers to enhance their lessons in an easy and agile way.
In addition to these key features, which save time for teachers and help students learn faster, interactive digital displays reduce reliance on textbooks and printed teaching materials. As well as reducing costs, this helps to save natural resources and minimise negative environmental impacts.
Increasing efficiency for school administrators
The latest digital technologies use video data captured by cameras to automate attendance management, with no need to take roll calls manually. This is achieved using AI-powered technology, which – with consent given by parents and students themselves – identifies students who are present and those who are absent, and records the roll-call information for later use.
By viewing attendance data recorded by this kind of system, administrators can understand attendance trends centrally via a dashboard interface, aiding reporting and supporting initiatives to ensure that as many students as possible attend classes. Attendance data can also be viewed for each individual student, helping schools to identify class members who are struggling, and to provide the support they need to improve their attendance records.
Making school information more accessible 
Digital education solutions can assign each classroom with its own, unique, information panel. Called 'digital signage', these panels can display information such as class schedules, daily activities, class videos, class photos, and so on. School managers can use them to deliver campus information to all panels such as campus notices, campus activities and campus videos, as well as urgent notices. Students and teachers can use these panels to maintain and monitor attendance records, screen for high temperatures, as well as checking individual attendance reports, and other academic information.
Helping IT staff do more with less
Some digital education solutions now provide a single dashboard view of all devices connected to the network – with simple tools that speed up IT configuration, management, and troubleshooting. This helps to improve the quality of IT services for staff and students, helping to optimise teaching and learning experiences.
Discover how with Hikvision
Hikvision digital education solutions streamline and automate a wide range of tasks and processes, helping education institutions to increase their operating efficiency and reduce costs.
Our interactive digital displays, for example, make it faster and easier to share critical information and learning resources with students, improving education efficiency and quality. At the same time, our attendance management solution allows roll call to be automated and provides a centralised view of attendance information – down to individual student level.
Finally, Hikvision supports centralised management for all connected devices via our HikConnect software platform. This gives IT staff a real-time view of device status across the network, with highly efficient tools for configuring and troubleshooting devices remotely. Devices can also be turned off automatically when they are not in use, further increasing efficiency and sustainability and delivering major cost savings to the institution.
To find out more about Hikvision's digital education solutions and how they can help your institution to maximise operating efficiency, please visit the website. You can also contact us today for a meeting to discuss your specific needs and we'll be happy to help.