The ASUS ExpertBook B6 Flip is the mobile workstation that will realise your performance ambitions, pushing every limit to deliver the speed, power and portability you need — with a flippable, touchscreen form that can turn itself to any task.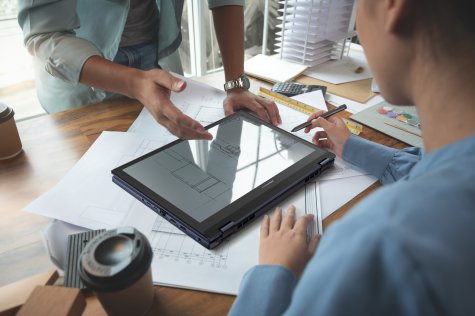 With enterprise-grade components, including up to Intel 55 W processors and professional NVIDIA graphics, plus an advanced thermal design to keep everything running cool, quiet and at peak performance.
The ASUS ExpertBook is also engineered with a stunning 16-inch, 120 Hz display with a 16:10 ratio for an expanded that keeps critical commands close — ensuring that the ExpertBook B6 Flip is ready to power through every creative endeavor, from audio and video editing to hardcore 3D modeling.
This machine is powerful yet portable-With an up to 12th Gen Intel Core HX vPro processor, the world's best mobile workstation platform, the ExpertBook B6 Flip brings packs desktop-level performance into a portable form. It cranks up the core counts and adds support for both the PCI Express 5.0 bus and error-eliminating ECC memory — so it's ready for whatever you throw at it.  All this empowers designers, creators, engineers and other pros to amplify their productivity in the era of hybrid work.
Planning, designing and engineering are all made easy with the ASUS ExpertBook. ExpertBook B6 Flip allows you to optimise the experience and concentrate on bringing your concepts to life with BIM software, using tools such as Revit, 3dsMax and Maya.
That's not all: It stays cool and quiet while you get all the heavy work done. Its optimised cooling system lets the mighty Intel CPU run comfortably at a blistering 135 watts total TDP (55 W CPU and 80 W GPU) in performance mode — with no throttling. Also, with NVIDIA Max-P Dynamic Boost's support, power users can push performance even further. This remarkable feat of engineering uses dual 98- blade fans. The slim blades are quiet, power-efficient 3D-curved design increases airflow by 17%. Three heat pipes and seven intelligent sensors ensure optimum cooling performance, while keeping everything quiet — under 40 dBA in Standard mode — so you can concentrate on the task at hand without distractions.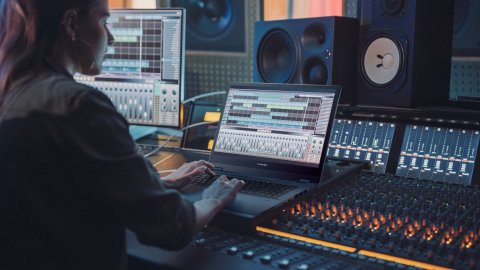 Connectivity is vital when you're on the go— and a business laptop needs maximum I/O options to handle all workloads. The ExpertBook B6 Flip offers a comprehensive set of ports for easy data transfers and versatile peripheral connections. This includes a built-in smart card reader for use as secondary ID check for enhanced security and a microSD slot makes it easy for creators to shoot, edit, and process massive images and videos anywhere. It also boasts two ultra-versatile Thunderbolt 4 ports with DisplayPort 1.4, along with two USB 3.2 Type-A ports and a pro-grade 2.5 Gbps Ethernet port.
Perhaps the biggest concern with any network device today is security, and so the ExpertBook B6 offers comprehensive business-grade security from physical hardware protection to identity security. In particular, the ExpertBook B6 Flip is equipped with multi-layered security — making it ideal for use in financial and government settings. This includes support for self-encrypting TCG Opal SSD drives to prevent unauthorised data access to the data, plus a discrete TPM 2.0 chip to securely store authentication information such as passwords or encryption keys. It also has a smart card reader to enable easy two-factor authentication, with a password and recognized card required for login — plus an IR camera for easy face login with Windows Hello.
Powerful, portable, versatile and always ready-that's the ASUS ExpertBook B6.
Where to buy: ExpertBook B6 Flip (B6602F, 12th Gen Intel)|Laptops & 2-in-1 PCs For Work|ASUS Middle East