If you're a business user looking for an agile, tough and productive, yet elegant and fast laptop to keep up with your fast-paced lifestyle, look no further. The ASUS ExpertBook series offers ergonomic design and robust security features, helping business users' work comfortably and securely, anytime and anywhere.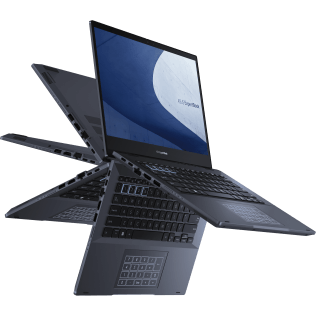 Beginning with the design, the ASUS ExpertBook B5402FEA is a 360-degree flip version, with distinctive edges on the corner which gives it an elegant appearance. This, in itself, is a stark contrast from the usually plain-looking business laptops. That's not all-the laptop resembles the starry night sky with an iridescent finish with tinges of red and green, with small shiny particles embedded within the finish.  
Pick it up and it's compact & light weight-its manageable 1.25 kg weight means that it will fit in easily into any suitcase or backpack.  
As far as the display goes, the laptop lives up to its glitzy look-it features a 14-inch FHD 16:9 IPS panel with a NanoEdge design to provide an up to 85% screen to body ratio. The display supports 1920 x 1080 resolution, 100% sRGB color gamut and up to 400-nit brightness. 
Make no mistake, this laptop is durable too-the lid and base panel of the ExpertBook B5 series are made of aluminium alloy and the C part is made of magnesium aluminium alloy, allowing a much lighter weight and incredible strength. In addition, it also has reinforced hinge connections and has passed the rigorous demands of the of the MIL-STD 810H * standards for durability. 
Other high-performance parts include up to 48 GB of high-speed RAM, and up to 2 TBx2 PCIe 3.0 NVMe M.2 SSDs. Also, as a flexible and adaptable business laptop, its parts can be configured to meet specific performance, security and budget requirements of customers. 
The ASUS ExpertBook B5 series is powered by 11th Gen Intel Core processors with Intel Iris Xe graphics. 11th Gen Intel Core processors provide better computing performance and mobility than previously possible. The new processors revolutionise modern creative workflows with Intel Deep Learning Boost AI acceleration and AV1 media encoding and decoding technology. In addition, they integrate the latest, highest-speed Wi-Fi technology as well as new Thunderbolt 4 Technology to connect to a universe of peripherals and enable single-cable access to fast charging, external monitors, and extended storage.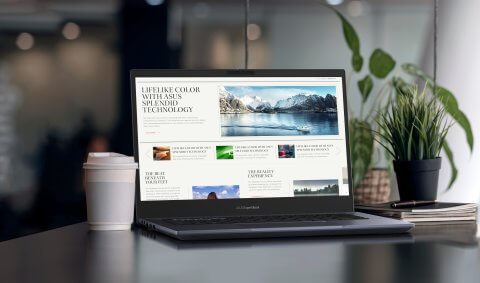 Perhaps the best feature of this laptop is that it is equipped with ASUS Wi-Fi Master Technology, which not only has built-in Wi-Fi 6 wireless network for faster wireless transmission performance, but also adds ASUS exclusive Wi-Fi SmartConnect, which provides greater distance, stability, and a seamless wireless network experience for business users. 
Another USP? The ASUS ExpertBook B5 series is available with a 63-watt, providing up to 12 hours of battery life (Energy-efficient Panel version), allowing users to work an entire day without charging. It also offers a fast charge function that charges the battery from 1% to 50% in just under 39 minutes. Moreover, the ASUS ExpertBook B5 series includes an optional Panel Self Refresh technology which relies on dedicated memory built into the LCD display panel. It's used when the display is showing a static image, and saves energy by shutting down the video processor and its circuitry. This lower power consumption allows a much longer battery life. 
Mention must be made of its superior video quality which is the result of the ASUS AI Noise-Canceling Audio feature, which ensures that users can hear and be heard clearly in any scenario. The ClearVoice Mic function page lets user select from one of four modes: Normal, Basic, Single presenter or Multi-presenter. The ClearVoice Speaker function filters out all ambient noise except human voices, so that users can hear and record more clearly — even if background noise is present. 
There are plenty of more features packed into this slim, elegant machine, so check them out and make the ASUS ExpertBook B5402FEA a part of your everyday worklife. It's a winner all the way.