Detachable laptops have always been subject to scepticism and doubt-questions about the processor power, battery and display of this category always come to mind when selecting a laptop for everyday use. But the ASUS ExpertBook B3 Detachable laptop puts all doubts at rest with its flexibility, versatility and performance.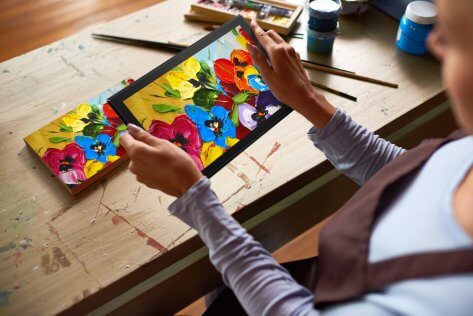 To begin with, the ASUS ExpertBook B3 Detachable is powered by the Qualcomm Snapdragon 7c Gen 2 with Windows operating system, which can provide users with better productivity, performance and longer battery life than other laptops with Intel Pentium or Celeron processors. In addition, at only 595g weight (with the garaged stylus is 600g), 8.9 mm thickness, and dual camera design, it not only makes it easy to carry but also offers users excellent remote learning and work experience. 
It also has an optional dual-orientation stand cover-ExpertStand. This not only provides robust protection for the laptop but also can flexibly change between using modes within seconds. In addition, the ExpertStand is with a special-woven fabric finish which allows users to easily hold on and reduce the risk of dropping. 
The optional keyboard is ergonomic, with an ErgoLift design and 1.5 mm key travel, allowing ASUS ExpertBook B3 Detachable to enable the best typing and productivity experience. When the keyboard is detached, the ASUS ExpertBook B3 Detachable becomes a compact tablet with a garaged stylus for taking notes or sketching. The detachable keyboard is also spill-resistant, so users need not worry about accidental beverage spills. 
For increased functionality and productivity, the ASUS ExpertBook B3 Detachable features the ASUS ExpertWidget function, allowing users to customise their own 'hot keys' with the combination of Fn key + Number key 1~4. In fact, users can open the setting screen of this function in the ExpertWidget software, and quickly customise the function of each key combination.  
It's hygienic, too. The detachable keyboard features a special new antibacterial coating which integrates silver ion components. When the silver ions encounter bacteria, they combine with the negative ions in the bacteria, thereby destroying the structure of the bacterial cell membrane or cell wall, so they cannot propagate. This coating design has also passed the ISO22196 test certification, with an antibacterial effect as high as 99%. 
The 38-Wh battery of this powerful laptop delivers an up to 21-hour of charge by playing back 1080P video while connected to the keyboard, so it allows you to work an entire day without charging. It also features one USB 3.2 Gen 1 Type-C port and a 3.5 mm combo audio jack on the right side, as well as power and volume buttons on the left side. The USB-C port supports data transfer, DisplayPort and power delivery, allowing the ASUS ExpertBook B3 Detachable to expand connections.
With remote work becoming increasingly common, the need to filter out noise becomes essential. The ASUS ExpertBook B3 Detachable features an ASUS AI NoiseCanceling Audio, which ensures that users can be heard clearly in any scenario. In addition, the function can filter out all ambient noise except human voices, so that users can hear and record more clearly — even if background noise is present. The ExpertBook B3 Detachable also features shortcut keys to quickly mute the microphones, ensuring that conferencing is slick and safe. 
Impressive, powerful, elegant and versatile-the ASUS ExpertBook B3 Detachable is for all those who love class, finesse and performance-all in one package.