Heading a group that was recently named IT Team of the Year at CNME's ICT Achievement Awards, Anthony Tomai believes in bringing a human touch to the office. Since his move to the Middle East two years ago, the AECOM EMEIA CIO is already enthused with the opportunities the region can bring.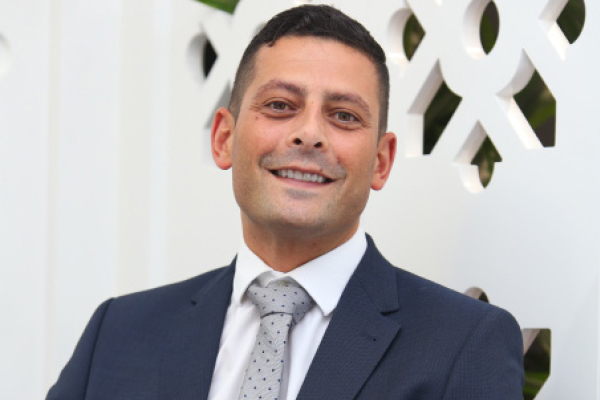 "Working for corporates is fantastic, but in many ways there's more to life than shareholders and profitability." It's clear for anyone to see that Anthony Tomai has got things in perspective. Having been CIO for one of the world's largest construction and engineering companies for its Europe, Middle East, India and Africa region for just over a year, an understanding of key nuances is important for Tomai. His people-friendly philosophy seems to be paying off – AECOM's IT department was recently judged to be the Middle East's Team of the Year at CNME's seventh ICT Achievement Awards.
Born to Italian parents, Tomai was raised in Melbourne, Australia, and left school to join the Kangan Institute in Melbourne to undertake his higher education.
His fascination with technology was ignited by all the "big tech" that sat in back offices. "Shortly after you finish high school, you start to contemplate what kind of career you want, and technology fascinated me," he says. "Things like mainframes and data centres – all then stuff that was hidden away but powered all the services that people consumed," he says. "I was intrigued by the ways you could use these technologies to deliver a range of services to paying clients."
Graduating with a diploma in IT, an ambitious Tomai set about building his CV with experience at world-renowned organisations. Shortly after gaining his diploma, Tomai earned a short work experience stint at Ford Motors, and his time at the corporation was enough to convince him of his ability to work on large scale IT projects. "It was a great taste of tech, and how it could be deployed to help millions of customers," he says.
The experience served as a fantastic springboard for Tomai's career, and he began plying his trade as an IT contractor across a range of firms. Tomai relished the diversity of projects that he undertook. "It was great to have so many different projects coming in," he says. "One week could be completely different from the next." Working on a lot of anti-virus and security projects – as well as migrating from Windows 3.11 to Windows 2000 operating systems – Tomai worked "for a number" of MNCs in his role. One such firm was professional services giant PwC, who were so impressed with his work that they hired him as a senior IT consultant in 1998.
Tomai recalls having witnessed a number of incidents in the IT department, where careless mistakes from staff severely impacted the business, and resulted in irate bosses, but he remains grateful for the strong grounding so early in his working life. "As you go through an IT career, you learn to build a sense of healthy paranoia," he says. "I learned that making certain changes during business hours that negatively impact operations could really land the person responsible in hot water. That teaches you to be extra aware, especially in terms of security implications. Technology directly impacts revenue, so it's necessary to build that healthy paranoia."
Tomai moved on to join transcription service provider Auscript, this time boosting his CV by working as IT team leader in the company's Melbourne office. After a two-year spell at Auscript, Tomai jumped at the chance to join not-for-profit organisation Berry Street, a company that strives to help neglected and abused children. Once again, he joined in an IT team leader capacity. "I felt very proud that I could give something back and play my part in helping disadvantaged kids," he says.
In January 2003, engineering and design firm Parsons Brinckerhoff came knocking for Tomai's services, and he would begin what would be a long and fruitful association with the company. His initial duties included managing information systems, technical support and production systems for PB's business in Victoria, but over time he ascended the ranks to take on a series of transformative IT projects.
The last year-and-a-half of his tenure was spent as CIO, where he was responsible for managing a multi-million-dollar budget for the firm's Australia Pacific region, with 40 IT staff on his team.
The proudest moment of Tomai's career came at a company Christmas function, where the chief executive paid homage to him in a glowing speech. "He said that anyone who wanted an example of making positive change could look at the work I was doing in the IT department," Tomai says. "He said that my work was having a direct impact in terms of generating revenue. It was great to be publically acknowledged like that by the top person in the company."
Looking back on his time at the company, Tomai believes he left a good legacy in terms of the change he introduced. "We weren't just responsible for the back end, but were providing front end solutions that made a difference to the business," he says. "We were ultimately able to deliver faster outcomes for clients."
In July 2013, construction group John Holland spied something they liked, and appointed Tomai their group manager for business services. His time at the company afforded him some excellent exposure to the workings of an M&A deal, as the company was acquired by Chinese firm CCCI. "I was at the front end of the process, and that provided me with fantastic experience," he says.
Just over two years ago, Tomai was contacted by the former CFO of Parsons Brinckerhoff, who made him an interesting proposition. "He tried to persuade me to move to Abu Dhabi to join AECOM," he says. "I was initially a bit skeptical, but he offered to fly my family and I out so we could see the place for ourselves. Two months later, and we had all moved over."
Initially joining AECOM as IT director for the India, Middle East and Africa region, Tomai was made EMEIA CIO just over a year ago having settled in quickly.
The quality of life in the UAE has already grabbed Tomai. "I believe I'm very fortunate to be here," he says. "This country is as safe as any I've ever been to, and my kids have excellent schooling. The diversity here is great. On any given day you will encounter a dozen or more nationalities, and that's a fantastic learning experience in itself."
Tomai has long harboured ambitions to further his education, and is "6-12 months" away from completing an MBA course. What's more, he draws great pride in leading an IT team whose success is founded on a "family" atmosphere. "We're extremely committed to looking after our staff," Tomai says. "Their development is very important to us, and we're always keen to invest in external training so they can develop both personally and technically."
He draws inspiration from his close family members, and Virgin Group founder Richard Branson. "He's a brilliant leader; he's done an incredible job of engaging and motivating his workforce," Tomai says. "They're happy to go to work, and want to be a part of the business. I believe my inner values stem from my parents – the desire to look after people, and be happy, not just successful."