Determined to combine business and technology acumen in his role, Akshay Lamba took on the position of CIO at Deloitte Middle East in May last year, and now oversees the firm's IT operations across 16 countries in the region.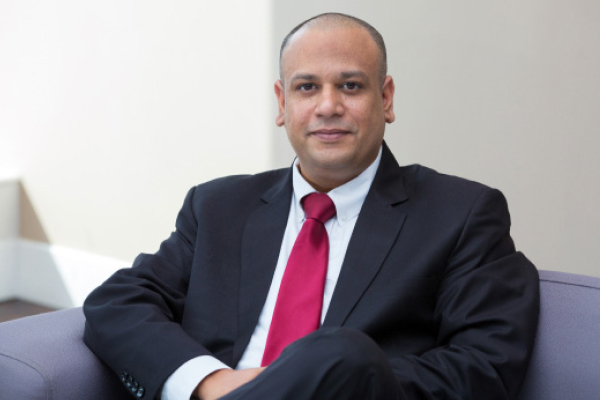 Akshay Lamba first honed his curiosity for technology during his four years at the Birla Institute of Technology, where he studied his Bachelor's degree in industrial engineering. "These were very fundamental years that gave me insight into operations and processes," he says. "I focused a lot of my time on robotics and the communication protocols between machines, which stemmed my interest in networks and IP."
Having completed his Bachelor's degree, he pursued his passion for technology and applied for a Master's in computer science at The University of Michigan. "Fortunately for me, I was lucky enough to be offered a research assistantship for the duration of my Master's," he says. "It was like Christmas had come early. I had a lab of my own, and was able to experiment with nearly every operating system under the sun. As a result, my desire to work with interconnected systems just grew and grew."
Lamba left Michigan in 2002, and returned to home country India as a business analyst for telecommunication firm, Bharti Airtel. "I was part of the CIO's office at Airtel, which allowed me to be involved with IT management at a senior leadership level," he says. During his time at Airtel, Lamba completed his MBA in finance at the Management Development Institute, Delhi. "Airtel gave me a deep appreciation for the wide range of skills required by a leader," he says. "I realised that a leadership profile extends far beyond expertise in their function, and instead encapsulates broad knowledge across finance, technology, marketing, and people skills."
Taking this on-board, Lamba opted for a more business-centric role and moved to KPMG Dubai in the telecommunications and technology practice for the region. "This role granted me the opportunity to work with a range of industries, including banking, retail chains, the FMCG industry, investment firms, whilst allowing me to gain a holistic view of each industry's strengths and challenges," he says.
Leaving KPMG in 2008 prompted Lamba's decision to get back into IT, and back to his roots in Delhi. "Being in the consultancy world is exciting, but you cannot give good advice based on just theories and models; it has to be interlaced with industry experience so that you appreciate practical challenges that may disrupt the implementation of those models in the real world," he says.
Maintaining his interest in telecoms, he joined MTS as chief architect to lead their 'Enterprise Architecture and Business Enablement' department. "MTS was just starting out in India and was a greenfield operation at the time, but having the opportunity to create the entire telecommunications IT stack from scratch was a great experience for me," he says.
Lamba took a short break from his position at MTS to further his education in 2013, and moved to Boston to attend Harvard Business School (HBS) and complete his general management program (GMP). "Harvard opens up a whole new world for you," he says. "What blew my mind was that when you take these courses anywhere else in the world, you use HBS case studies as references – many of which I'd read during my MBA. But when the professor that has actually written the paper talks you through it, it's a whole new experience. You just cannot get those insights elsewhere."
Lamba joined Deloitte India in 2015 as a director – shifting his focus back onto taking new lines of advisory business to the market. "This role instilled in me an appreciation for creating value in every transaction – be it a meeting with a client or a multi-million-dollar transformational deal with a business partner," he says. "The opportunity to create value exists in every transaction and being able to identify the opportunity and leverage it appropriately was ingrained in most of the leaders I looked up to in that environment."
He took up the position of CIO at Deloitte Middle East in May last year. This role involves overseeing technology management of 16 countries in the region, which Lamba pinpoints as being one of the main attractions of the job. "We have IT teams in most of the 21 offices in the region, and we are now developing a strong centralised team here in Dubai," he says. "When I came into the role, Deloitte Middle East had been in the region for 90 years, and the board was keen to analyse what IT had done for the firm during that time, and how it needed to develop over the next 90 years. Over the last year, we've defined our IT transformation roadmap, and have started that journey to rapidly re-architect the way IT supports the business priorities of the company going forward."
During the course of his professional journey, Lamba has overseen various strategic projects – some of which carried crippling consequences, should they have gone wrong. "One of the key lessons I've learned in my professional life is that if you want to grow at a non-standard pace, you can't be playing an overly cautious game. This is why I have always looked out for large impact, business-critical projects. You've got to take those calculated risks if you want to create a sizeable impact, and as long as the ones that pay off outweigh those that don't, you're moving in the right direction," he says.
Throughout his career progression, Lamba points to his father as playing a key role in influencing his success. "He has always nudged me along in being better than I was the previous day," Lamba says. "I think the best advice I ever got from him was to strive to instruct skills of honest leadership." From a professional perspective, being able to comprehend the intersection between financial, technology and business models is something that still inspires Lamba in his work today. "The fact that my background has enabled me to understand this drives me to get the different parts of any transaction just right. It's fundamental to remember that when you talk to businesses, it's all about translating that 'geek world' into 'business world," he says.
In the coming year, Lamba hopes to emulate a key message from Professor Robert S. Kaplan, whom he spent time with during Harvard stint. "He always said that when taking on a leadership role, you need to be clear on three things: your vision, your priorities to ensure you fulfil that vision, and how will you align your ecosystem to achieve those priorities. I'm hoping to implement this construct at Deloitte Middle East in order to ensure we're well on the way with our transformative journey," he says.
As disruptions in technology and professional services continue to impact the industry today, Lamba has his own message for CIOs in the industry. "Leading the technology function has historically been about getting the technology right for the business as it is today. Going forward, it is time to consider opportunities for de-coupling businesses from technology, so that business can scale independent of the cost of doing business."