Gopi Krishnan's impressive CV in banking technology has earned him significant credibility in the region. Now chief information officer of Al Hilal Bank, he hopes to fulfil the board's aim of becoming the most technologically advanced firm in Islamic banking.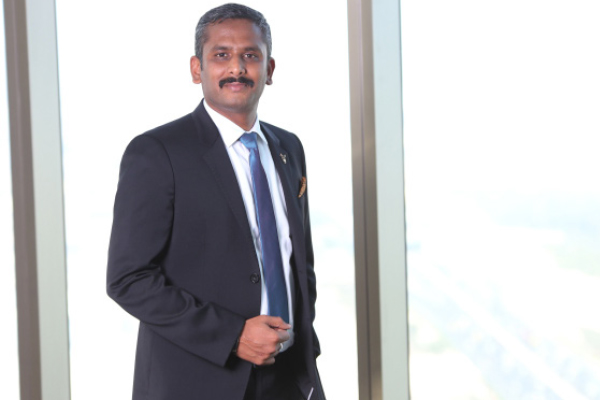 By all accounts, Gopi Krishnan's extensive CV is a world away from the life he had once expected for himself. Born and raised in Ambasamudram, which he describes as a "one of the most beautiful small towns in South India," "Krish" grew up in an middle class family, believing he would one day wind up working for the government. He attended St. Xavier's College in Palayamkottai to complete his Bachelor's degree in General Science, but it wasn't until his second year of study that he realised that technology could be the path for him.
"I realised that I wanted to take up computers when I got hooked into basic programming with my college mates from the Computer Science department," he says. "So I decided to take up computers as an extra subject in addition to my degree." He went on to pursue an advanced diploma in Technology and Information Systems before progressing onto a post-graduate diploma in International Business at the Indian Institute of Modern Management (IIMM), Pune.
He was quick to land his first technology-based job as a lab coordinator in NIIT, before taking up positions in organisations such as Thinksoft and Citigroup EMEA. He began working for Citigroup in 2002, before moving to Baltimore in 2004 to join CitiFinancial as part of their quality assurance and programme management team. Following this, Krish moved to the UK in 2005 to begin his work with Fidelity Investments at City of London Telecom (COLT).
"The importance of IT and what it can do for business is much more understood in the Western world than it is here in this region," he says. "I think that is slowly changing, and one of the key reasons that made me join Al Hilal is because this bank's aim is to become one of most innovative and digital advanced Islamic banks in the region."
Krish came to the Middle East in 2006 to take up various management roles at First Gulf Bank, including head of systems, head of EPMO and head of the governance office. "I had a great run at FGB, and was able to implement big changes with respect to processes, stricter controls, change management and programme governance – so much so that the business satisfaction levels on IT rose significantly to 86 percent. Turning around a large bank's IT division into an efficient and agile organisation was a great success for me," he says.
Krish was then headhunted by a former boss to lead a $50 million programme at BankMuscat International over a period of two years. "The project at BMI involved changing everything; IT systems, data centres, channels, CRM, core banking, trading platform, wealth management, ERP – you name it, we changed it."
After a successful transformation story at BMI, he moved on to Qatar Islamic Bank to lead a transformation dubbed as the 'iCAN' programme. He joined them as head of business technology and transformation in 2012, and was later promoted to chief information officer.
"Transformation programmes are not IT-led; they are bank-wide programmes, sponsored by the CEO themselves," he says. "During my successful attempt at QIB, we had a dedicated team of 40 people from across the bank as 'transformation champions.'"
Acknowledged by the likes of Deloitte and Temenos, this transformation programme was recognised and showcased worldwide for its implementation methodology, change management and programme governance.
Krish believes his success as CIO is down to his "five golden rules," which he plasters across the walls of his departments. "Rule number one is that my staff are to work under the ethos of being one team, with one vision and one voice. I have always emphasised that a team is as strong as its weakest link, so that is rule two. Wherever possible, they are to make things cheaper, faster and better. Rule number four is to keep things simple, and only do what is necessary. And finally, I have always told them to work hard and play harder."
He also maintains the crucial importance of being a team leader and not just a manager. "When it comes to managing people, one size does not fit all. I believe in adapting my management style to the needs of the employee. Some people need a very directive approach; some just need goals and the freedom to achieve them," he says.
When reflecting on his most satisfying career experience to date, Krish, a major believer in transparency between departments, pin-points the successful creation of an IT and business partnership at QIB. "There are multiple ways in which IT can influence a business, and when I took over as CIO at QIB, this alignment was something that I really wanted to enhance," he says. "IT processes sometimes made business more complex than it needed to be, and requirements which were 'signed with blood' – so to speak –  and therefore couldn't be changed, hampered our agility and time to market. Luckily, we were able to change that situation for the better while still maintaining necessary governance and information security check points."
In the midst of his work on transforming technologies, Krish has also been involved in transforming the lives of thousands of underprivileged children from rural villages in India. "Six friends and I started this philanthropic initiative, 'Giving is Good', which involves us donating any money that we can spare to supplying computers to schools in remote villages of India. These children previously knew the world only from the globe in their classroom, and now all of a sudden they have access to programmes like Google Earth, Wikipedia and YouTube. You can't imagine the impact it has on the students, teachers and general public," he says. "This sense of creating a positive impact on people is what drives me to get up in the morning. If someone told me I was going to be sent on a project that wouldn't pay me very much or give me the fancy perks of a high-flying job, but it would change the lives of 100 people, I would gladly do it." In recognition of his efforts, Krish was awarded an honorary doctorate in 2015 from International Tamil University in the USA.
Having joined Al Hilal Bank in August, Krish stands by one of his core principles in which he encourages his team to 'try and fail.' "There's nothing wrong with failing; at least you can learn from your mistakes. I want this to be a fun and interesting place to work – it isn't NASA after all," he quips. "At Al Hilal Bank, we are determined to ride the digital wave and adopt the latest technological innovations to offer our customers preeminent products and services, and deliver outstanding customer experience."