Throughout his career, 'startup specialist' Surendra Shetty has had a knack for building technology from the ground up. The UAE Exchange CIO cut his teeth at a range of financial organisations across India, and is now relishing the challenge of sitting in the company's IT hotseat.
Surendra Shetty has built a career on fresh ideas. If his track record is anything to go by, UAE Exchange should have high hopes – a selection of the startups that Shetty has worked for have developed a vast, global reach, much like his current employer.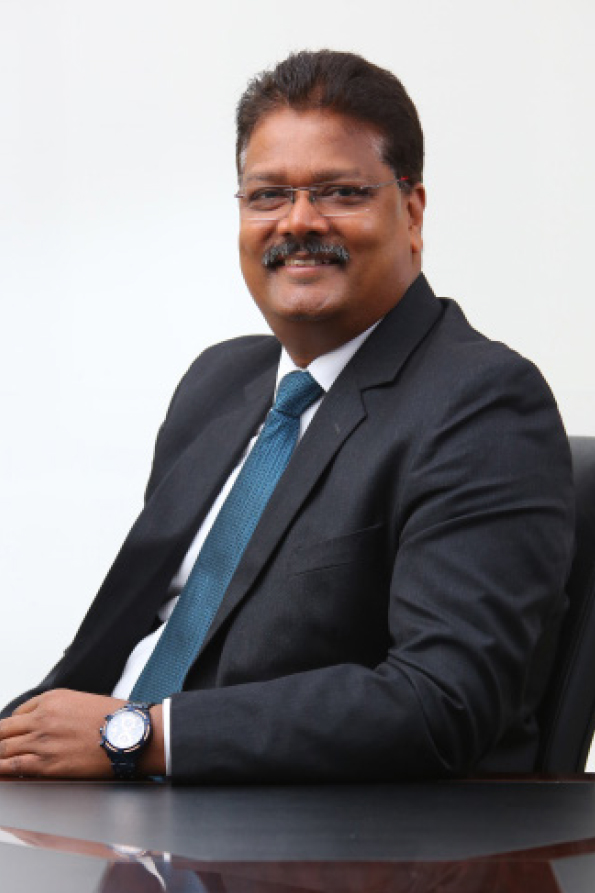 Shetty completed his higher education at The University of Mumbai – the city where he was born and raised – studying for a Bachelor's degree in commerce. He concurrently completed a course in IT, his studies covering basic COBOL, system analysis and design, Unix and C language.
Graduating in 1990, Shetty began his professional career in the same year with Mumbai-based software firm Patni Computer Systems as a trainee engineer. "I wasn't from an engineering background, but relished the challenge," he says. Undertaking an 18-month training programme, Shetty was set to earn 600 rupees per month, working across three main technologies. However, his Patni tenure was short-lived.
After two months, Shetty received an offer that would earn him a salary six times greater than what Patni were paying. French bank Crédit Lyonnais recruited him as an assistant in their electronic data processing team, and the move would get Shetty off to a great start in his career. He describes his role as being "techno-functional" due to the strong understanding of banking processes and business requirements that he acquired. "I got fantastic exposure to a centralised core banking solution," he says. "I was one of two members of staff who were supporting 90 people. We also set up a LAN, as well as localising software that had come from head office. We successfully developed reporting, payroll and local learning software in-house."
He would go on to spend five years at the company, and towards the end of his tenure, he got his first major taste of technology transformation, running a year-long project to upgrade Crédit Lyonnais' core banking system.
In 1995, Shetty joined Mumbai-based startup HDFC Bank, which "only had three branches" at the time, where he would be tasked with all data centre and application support for core banking. The firm has since blossomed into a 90,000-employee powerhouse, and Shetty was to play a crucial part in the HDFC's early development. After cementing his reputation in his first two years at the company, Shetty was tasked with managing the business solutions group for core banking.
In the run up to the turn of the millennium, Shetty was tasked with running extensive tests on 27 of the company's applications to mitigate any problems that could result from the Y2K bug.
Months later, Shetty would move to Pune to join CashTech Solutions as head of implementations and consulting. He played a crucial role in implementing CashTech's products in Centurion Bank, BNP Paribas, HSBC – across banks in four countries – and Thai Farmers' Bank in Bangkok. However, the change in city brought with it a personal upheaval for Shetty that meant he was "living out of a suitcase" and could not see his newborn daughter as often as he wanted.
The new lifestyle prompted Shetty to seek a change, and after a year-and-a-half he returned to Mumbai, joining Flexcel International, a joint venture between HDFC and Indian firm Iflex Solutions, as chief technology officer and head of implementations, a "Big step up" in his words. "I was the first employee of the new company," Shetty says. "That meant that I was tasked with setting up a new data centre and a new team, as well as setting up the office. In my previous roles, groundwork like that was already in place, and my domain expertise had always got me through." Shetty's first client at Flexcel would be Keralite firm Lord Krishna Bank, who were shifting to a centralised core banking system. "It was great experience to work on a true greenfield IT implementation," he says.
After spending three-and-a-half years at Flexcel, Shetty embarked on "another greenfield opportunity", joining Yes Bank as the company's first IT employee in May 2004. In the initial stages of his new role, Shetty was tasked with managing corporate applications, as well as evaluating software and data centre options for the company. After 18 months, Shetty began to make progress in terms of building a new team, including the hire of a new infrastructure head, and gradually delegated duties as more people joined the company.
In 2008, Yes's business solutions group merged with its IT department, and he was named applications head for the technology and solutions group. "By this time I had become something of a startup specialist," Shetty quips.
By 2012, he had ascended to the role of deputy CIO, following the departure of the company's former IT head. Although the change in title represented a step forward for him, he felt that his track record within the company merited its most senior IT position. "I'd be lying if I said I wasn't disappointed at not being appointed CIO in 2012," Shetty says. In early 2013, however, and in his ninth year at the company, Shetty fulfilled a career-long dream as he was named Yes Bank's chief information officer. "When I was finally promoted to the position, I was incredibly excited that I had achieved my ambition," he says. "It was undoubtedly a career highlight for me."
Almost two years later, in December 2014, Shetty received a life-changing offer, to work in the United Arab Emirates as chief technology officer for BRS Ventures and Holdings Limited, a diversified holding company. Yet again, his strength in starting from scratch was called upon, his first major task to successfully integrate the technology infrastructures and processes of his future employer, UAE Exchange, and Travelex, who the company had acquired.
While certain aspects of the vast project are still ongoing, February 2016 saw the go-live of UAE Exchange's point of sale systems in Qatar. That launch also coincided with Shetty's appointment to being the firm's CIO, replacing a figure who had been in the position for 17 years. Since ascending to the role, Shetty has set about putting his own stamp on the firm's IT operations. While he was determined to keep the existing team intact, he also made it a priority to hire staff for a selection of new roles, including business analysts, project managers and relationship managers. "I made it a priority to introduce more concepts around project management," Shetty says. "We've done a lot of work around IT risk, procurement and sourcing, and I've recruited for those roles."
In January, UAE Exchange also completed the process of migrating two of its data centre sites into one tier 3 facility, which has reduced IT complexity for the company. "I'm very pleased with the way my first year has gone, all in all," Shetty says.
Although Shetty confesses to missing Mumbai, he is nonetheless delighted at the expansive travel opportunities that have been afforded to him at UAE Exchange. "It's such good experience," he says. "In the last few months alone I've been to London, Paris, Malaysia, China and South Africa. My role means that I'm the face of the company for travel and IT."
A married father of two daughters, Shetty believes the pressure he continually exerts on himself allows him to achieve his full potential. "I'm a perfectionist," he says. "I always hold myself personally accountable and I've never regretted the decisions I've taken." He adds that his former boss at HDFC, H Srikrishnan, was a driving force in his career. "He was a true mentor, someone you could always bounce ideas with," he says.