CNME Editor Mark Forker spoke to Vikas Agrawal, Head of Presales at Emitac Enterprise Solutions to find out how the IT leader has helped their customers stay protected during the COVID-19 crisis, why ransomware is on the increase, and the importance of a software-defined data center.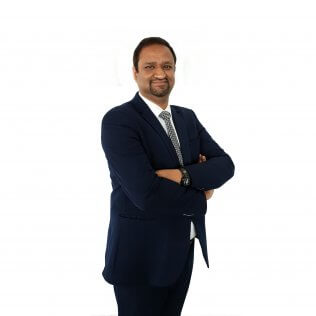 There has been an increase in the volume of ransomware attacks globally as cyber hackers attempt to capitalise on the enterprises moving to remote working. How is Emitac helping to keep their clients protected from ransomware attacks? 
During COVID-19 every organisation wants their employees and customers to access IT resources remotely to provide faster services, but this is creating a security challenge for everyone. 
An isolated computer is just vulnerable to physical theft, but a connected system is on everyone's radar, over the last few months I have witnessed multiple organisations getting effected by Ransomware. Organisations have spent lot of money on IT security, but still they couldn't prevent the attack.  
Emitac is helping our customers by providing necessary tools, assessment services and managed SOC including training to end users. It is a misconception that network and security admin is responsible for data security. IT security is a framework, every individual in the organisation is responsible to protect this. Taking the correct measures prior to attack is an effective means of prevention. 
Our team has helped multiple customers to recover from ransomware attack.
In your expert opinion, why do you think there has been such an exponential increase in ransomware attacks, and why has that become the method of choice for cyber hackers? 
In our opinion hacking has become a profession now, earlier it was done for passion or rivalry, but nowadays it is done for easy money. Everything is digital now. If you ask a common man you will find his photos and ledgers are digital. 
So, if someone encrypts these files, he is ready to provide easy money to unlock data. Most impacted businesses are small to medium companies as they are not having multiple copies of data and complex security infrastructure. 
For cyber hackers the easiest part is mail spoofing and phishing. Organised hacking starts from social engineering of any organisation or an individual, once they are aware about your connections and activity, they initiate E-mail phishing or Drive-by Download. This can be mitigated with well-connected security framework. 
Since users are more exposed to social media platforms such as LinkedIn, Facebook and personal mails they become an easy target, hence the end user awareness is the key for any successful security model.
We're seeing more and more discussions within the IT ecosystem around the concept of software-defined data center, which automates data center resources to achieve IT as-a-service. Can you explain to our readers why it's so important that enterprises host their data in a software-defined data center?
SDDC is a framework which virtualises and converts the underlay datacenter components like compute, network, storage, backup and security into programmable resources. 
Based on business requirements customer can provision infrastructure like a code using dev-op tools within a few minutes instead of hours. In SDDC end-users can self-provision the resources based on predefined or customised policies. 
With the help of micro segmentation customers can fine-grained security for every service in the environment.  This enables seamless connectivity by decoupling the services from locations and provides the flexibility to manage all datacenter components from a single window. 
SDDC is a journey which requires detailed assessment of your current and future requirements, with the help of our professional services team we can help our customers to achieve the final state, as a rule of thumb customers can check what kind of provisioning they are doing in datacenter like 2-3 new VM per day, 2-3 changes in network and if changes are less then these minimum numbers they can opt for an HCI environment, this will be a first step towards SDDC.  
What is that ultimately differentiates Emitac from its rival competitors in the market? 
Emitac is successfully serving our esteemed customers for the last 44 years. We have the right partnerships with the world's leading technology vendors to implement tailored solutions. 
We have a dedicated NOC and SOC along with a dedicated team of experienced in-country professionals to help our customers 24×7. We approach our customers with an open mind and provide them with the most flexible solutions based on open framework. 
We hold the responsibility of reinventing ourselves constantly to satisfy our evolving customers' needs and solving their pain-points as their success is our success – and we flourish and grow only by their insights, support and trust.
We have recently acquired Lattice software solutions, with this new acquisition we can provide solutions for computer aided facility management, audit and compliance management.