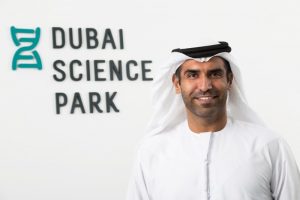 Seeking to enhance skill sets within the life-sciences industry and bridge the gap between academia and industry, Dubai Science Park (DSP), the holistic science-focused business community, invited key representatives from educational institutions to participate in a high-level skill development workshop at Dubai International Academic City.
The half-day workshop was held as part of ongoing efforts to implement the Dubai Industrial Strategy 2030 that aims to create an international hub for knowledge-based innovation and sustainable industrial activities. A dozen representatives from UAE-based universities, including the University of Sharjah, American University in Dubai, Heriot-Watt University Dubai, Manipal University Dubai, BITS Pilani Dubai, and The University of Manchester Middle East Centre, attended the session that explored how to bolster research and development, and encourage lifelong upskilling in the life sciences industry.
Marwan Abdulaziz Janahi, executive director, DSP and chairing member of the Pharmaceutical and Medical Equipment Taskforce of Dubai Industrial Strategy 2030, said, "There is a need to close the skills gap between university curricula and professional requirements, especially in highly sophisticated and knowledge-based sectors such as the pharmaceutical industry. The overwhelming feedback from industry leaders highlights the importance of promoting science, technology, engineering and mathematics (STEM) higher education programmes, and stimulating sustained interest in these subjects among the younger generation."
Janahi added, "The government, academia and industry must work closely together to create a conducive environment that drives Dubai's manufacturing sector to new heights. And, we are fortunate that we have an enabling tool such as the Dubai Industrial Strategy 2030 as our roadmap."
Mohammad Abdullah, managing director, Dubai International Academic City (DIAC) and Dubai Knowledge Park (DKP), said, "We are honoured to co-host this informative event with Dubai Science Park, and equally pleased to share first-hand insights from our business partners with the academic community. As our destination continues to evolve, we see it as part of our mandate to work closely with local industry and contribute to the continued growth of Dubai's economy and its transition towards an innovation-driven knowledge economy."
Forming part of Dubai Plan 2021 and launched by the Executive Council of Dubai in 2016, the ambitious Dubai Industrial Strategy 2030 aims to increase Dubai's total gross domestic product (GDP) by AED160 billion (US$43 billion) and add 27,000 new job across six strategically important sectors, including aerospace, maritime, fabricated metals, fast-moving consumer goods (FMCG), machinery and equipment, as well as pharmaceuticals and medical equipment.
Dr. Meis Moukayed, Professor of Natural Sciences at the American University in Dubai (AUD), said, "We require three tiers of training. Initially there needs to be a move toward strengthening STEM education. The Ministry of Education is already taking huge steps to achieve this. Secondly, universities need to prepare graduates with the correct skill-sets, such as critical thinking abilities and specialised proficiencies in technical areas that are of importance for companies to establish their manufacturing plants in the UAE. We are doing this at different universities in Dubai and we will continue to develop such programmes. The third level needs to focus at standardised international training units in line with Good Manufacturing Practice (GMP), further specialised R&D technical skills, as well as management, regulatory affairs and strategic leadership training that is recognised and accredited internationally."
The first workshop was welcomed by representatives from the various educational institutions. The overwhelming feedback from the academic partners was that there is a strong interest by students, at both under- and postgraduate levels, to move into life-science related jobs. However, specialised vocations such as researchers, laboratory technicians, physicians, engineers, geneticists, nutritionists and general managers, need to be offered in order for students to consider pursuing a career in the life-science sector.
According to Dubai Science Park, the pharmaceutical sector alone is expected to attract AED9.2 billion (US$2.5 billion) in investments by 2030, but will continue to rely on the availability of talent and the development of skills in science, technology, engineering and mathematics (STEM).
Dubai Science Park periodically hosts thought-leadership events, welcoming stakeholders from the government, academia and industry in an effort to provide an enabling platform that drives the local life-science, energy and environment sectors.