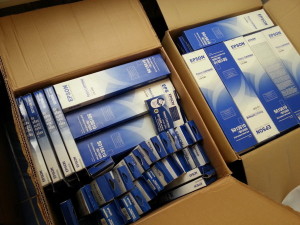 Epson has pledged to build on its tough campaign against non-genuine goods after news that its success in protecting customers from counterfeit inks and printer ribbons is boosting confidence amongst resellers.
Epson had been working with the Kingdom of Saudi Arabia Ministry of Commerce, the police and other local authorities during 2012, resulting in the seizure and destruction of counterfeit ink and ribbon cartridges from 57 resellers. Fines of up to SAR 150,000 were levied on these companies and many were removed from the commercial register making it very difficult for them to trade.
Mark Karsey, Epson's Marketing Services Manager for the Middle East, said: "We work hard to protect Epson's intellectual property and brand and our uncompromising stance means that our channel partners and customers are to a large degree protected from counterfeit goods.
"We have various means of checking products for veracity and if we do find counterfeit goods we act quickly and decisively to have them destroyed and prevent any further supplies reaching the marketplace.  We are proud of our success in 2012 and we will keep up the pressure during 2013 to ensure our customers can be confident of buying genuine Epson products in KSA."