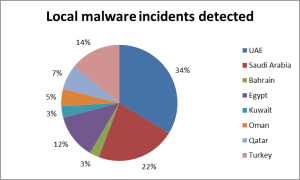 Kaspersky Lab has revealed research results that show an increase in malware in the Middle East.
The data, provided by Kaspersky Security Network, reveals that The UAE had the highest rate of attacks in the region, suffering 34% of all local malware incidents.
Meanwhile Turkey suffered the highest prevalence of Internet-based malware incidents – slightly more than a third of its users (34.4%) were attacked by such threats in the third quarter of 2013.
Ghareeb Saad, Senior Security Researcher, Kaspersky Lab, said, "In general the security threat landscape for the Middle East region is seeing increased activity from hacktivism groups that use DDOS and web defacement attacks to deliver their political message. Although removable media and local networks are still the primary method for spreading malware in the region, there is an increase in the use of drive-by downloads which exploit vulnerabilities in browsers and their plugins.
"Android mobile malware is rapidly becoming more widespread in the Middle East, and this is causing companies to have more concerns about adopting a Bring Your Own Device strategy,"
In the third quarter of 2013 nearly half of Egyptian users (47.8%) suffered from local cyber threats that spread via offline sources – removable USB drives, CDs and DVDs.
Criminals have exploited the volatile political situation in the region – by creating fake links to political news and videos, which direct users to malicious websites to exploit vulnerable browsers and download malware.
The region's most widespread malware appears to be win32.Sality – a polymorphic virus that propagates using removable media and network shares.
The most popular programmes for criminals to attack included Oracle Java, VLC Media Player and Adobe Reader.