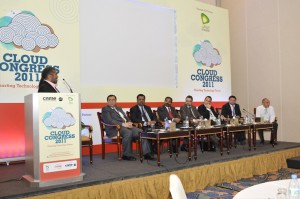 Speakers, partners and IT leaders from around the region have gathered this morning for the 2012 CNME Cloud Congress.
Leading on from the success of last year's congress, speakers are welcomed to add depth to the previous discussions centred around established private clouds, maximising efficiency of existing operations and integrating cloud-based data management into growing organisations.
Today's event will raise the topic of the state of clouds in the region, the general capability of service providers and the intricacies of a partnership for gaining mutual benefit.
Bilal El Sabbagh, Director of Consulting, Deloitte & Touche, will open the event by discussing the cloud journey, followed by a talk on the new age of cloud solutions for cash-strapped enterprises by Dell Enterprise Product Manager, Basil Ayass.
"Last year the main theme from the congress was that businesses believed clouds were too risky, today we will address those concerns," said El Sabbagh, speaking briefly before his opening talk.
Following the opening discussions, a partnership focus will take place followed by a cloud enabled network architectures discussion and a data centre optimisation and consolidation discussion.