Sam Altman, CEO of OpenAI and the creator of ChatGPT, believes now is the perfect time for entrepreneurs to launch a new company, or build a new product during a talk at the Al Hussein Technical University in Jordan.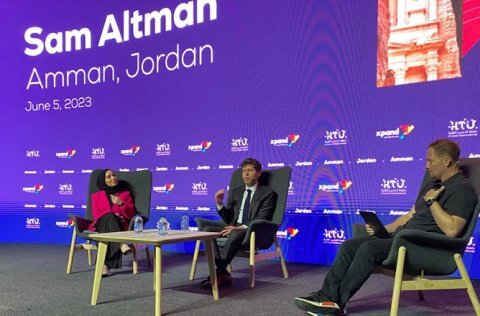 Organized by (HTU), in collaboration with Xpand Conference, the event included an enthusiastic side talk led by Altman at the King Hussein Business Park and was attended by more than 500 young Jordanians from across Jordan, who were interested in artificial intelligence and eager to learn more about ChatGPT.
Due to the high demand and thousands of requests, the session was also live streamed on multiple social media platforms, for those who weren't lucky enough to grab a ticket to be there in person.
During the one-hour event, Altman shared his expertise, experiences, and visionary ideas, stressing how AI can serve as an important tool for countless diverse purposes, asserting that that the potential of AI to transform industries and shape the future is immense.
ChatGPT represents a significant breakthrough in the field, enabling more natural and interactive conversations between humans and machines. But he stressed that ChatGPT will never be as dangerous to humanity as some think, as no one knows what the future will require of new jobs, and human creativity has no limits.
"This is the best time since the internet began to start a company or create a product," he said, adding that OpenAI is dedicated to pushing the frontiers of AI technology and making it available to as many people as possible.
"And that is what everyone should do today: take a step for the globe, rather than being confined by the borders of the country or region in which they reside, but thinking about what they can do for the world," said Altman.
The event provided a unique opportunity for attendees to delve into the mind of a young entrepreneur, explore groundbreaking concepts, and gain valuable knowledge to help shape their own entrepreneurial journeys.
Sam Altman is a renowned technology entrepreneur and visionary leader in the industry.
Having launched the OpenAI company in 2022, co-founded by Elon Musk, Altman has played a pivotal role in shaping the future of artificial intelligence.
At a young age, he served as the CEO of the prestigious business incubator Y Combinator, investing in early-stage startups like Dropbox.
Altman's commitment to building OpenAI and developing the ChatGPT model highlights his dedication to advancing AI technology and making it accessible to a wider audience.