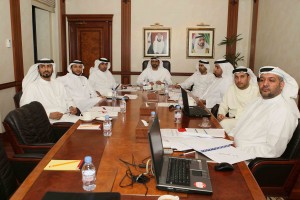 Dubai Government's Information Security Committee held its second meeting to discuss information security policy, which is poised to be adopted across all Dubai government authorities and entities upon completion.
The meeting, held at H.H. Dubai Ruler's Court was headed by H.E. Ahmed Bin Humaidan, Deputy Director of Dubai Ruler's Court and Director General of Dubai eGovernment, and attended by the other committee members.
"The aim of this meeting was to have a closer look into the Information Security System in Dubai Government, in preparation for its final adoption and implementation across the emirate. This will allow us to create an integrated strategy and a unified policy to protect all information and information systems in Dubai, especially those related to the government," said H.E. Ahmed Bin Humaidan.
As Dubai eGovernment completed the Information Security System assigned to it as per Resolution No. 13 of 2012 on information security in Dubai Government, the Committee reviewed the system during the meeting and took all necessary action.
The system aims to devise and develop an integrated strategy and a unified policy to secure government information and information systems as well as providing a safe and reliable environment for the storage of information, while creating greater awareness about the value of information security in the emirate.
Upon adoption of the Final Draft Statement within three months from the date of submission, all government authorities in Dubai will be required to immediately adopt and implement the system to be used by government employees and other certified entities, as mandated by the Dubai Executive Council resolution.
"The Information Security System is one of the key pillars to achieving Dubai's objective of increasing confidence among investors and businessmen by protecting their data and securing government transactions, particularly those conducted online," added H.E. Ahmed Bin Humaidan.
Establishing a unified information security system will also enhance the security of data and processes related to governance, including government information security and its operations, while protecting sensitive data of various government entities in the emirate, according to Bin Humaidan.
The Committee was formed under the Executive Council Resolution No. 13 for 2012 with respect to information security at Dubai Government, which was published in Issue No. 360 of Dubai Government's Official Gazette, on May 27, 2012. The resolution assigned several powers to the Committee, including studying and adopting the information security system prepared by Dubai eGovernment, following up its implementation by Dubai government entities, conducting regular review of the system as per the results of the entities' evaluation of the system, and ensuring the existence of an information security emergency plan at various government entities.