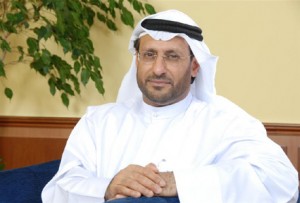 TECOM Investments and EMC today announced that they would work together on joint initiatives to contribute to the development of the local ICT industry through the creation of a regional skills base.
The companies also signed an MOU to that intent. MOU was signed today at a press conference by Dr. Ayoub Kazim, MD, TECOM Investments Education Cluster and Joe Tucci, chairman and CEO of EMC.
Joe Tucci, chairman and CEO of EMC stated during the announcement, "The explosive growth of digital information is a major challenge facing the IT industry, It is a call to action, to fundamentally change the way we build, operate and consume IT. Through this initiative TECOM and EMC will combine the strength of their resources and knowledge to educate the IT personnel of tomorrow to ultimately create a true knowledge based economy."
"Today, the UAE is on the global radar for its achievements across numerous industry segments and the intelligent use of information and communication technology has played no small part in these achievements. With the promise of exponential growth ahead of us, the demand for human resources that meet the need of this evolving ICT industry is continually growing, and we look forward to support EMC's initiative to create the next generation of IT leaders and personnel," said Dr. Ayoub Kazim, MD of TECOM Investment.
The EMC Academic Alliance program will offer four "open" curricula focusing on four key technology arenas, including information storage and management, cloud infrastructure and services, data science and big data analytics and back up and recovery systems and architecture.
"Through this partnership with TECOM, we will begin working with eight prominent universities representing 11 countries. An ongoing investment, EMC will provide materials and train faculty on the right curriculum at no cost to the schools and universities. We will also offer internships at various EMC facilities across the globe and offer recruitment opportunities for graduates of the program," said Mohammed Amin, EMC senior VP and regional manager for Turkey, Middle East and Emerging Africa.
The EMC Academic Alliance has educated more than 80,000 students since its inception in 2006 and is active within 750 colleges and universities across 50 participating countries.