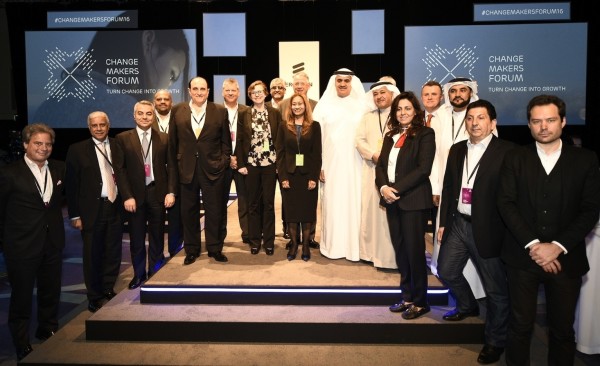 Ericsson recently hosted the Change Makers Forum, which focused on the importance of digital transformation and the need to think of alternative business models to seize the opportunities brought by the Networked Society.
The exclusive event brought together prominent speakers from around the region and the world to discuss subjects related to the transformation of information and communications technologies and how the Networked Society can contribute in setting new growth trends.
Jimmy Wales, Founder, Wikipedia, delivered a keynote speech on harnessing the power of social media. "As the Internet continues to grow and change at exponential rates, open-source, open-content technology will affect the fundamental ways that businesses interact with customers, distributors, suppliers, and the public in the future," he said.
Ari Kesisoglu, Regional Director, Africa, Middle East and Turkey, Facebook, delivered a keynote address at the forum where one of the recently announced 10 hot consumer trends by Ericsson's ConsumerLab highlighted that social networks may become the preferred way to contact emergency services. "Social networks have become an imperative part of people's lives across the world. Today, Facebook has transformed into a technology company used by over 1 billion people every day. Whatsapp and Messenger are used by 900 million and 700 million people respectively each month. The ability of social networking and messaging services to reach people at scale in times of emergency with streamlined communication is immense. Besides, emergencies, these services will also be used by organizations to engage one-on-one with audiences and deliver real-time CRM support. As we enter a mobile first world, social networks will unlock possibilities which have a positive impact on society."
Change-Makers who were part of the event shared common themes related to the transformation of business models across industries. One of the industries discussed was transportation whereby Magnus Olsson, Co-founder and Chief Navigator, Careem, also have a presentation on how business models are radically transforming enabling new growth opportunities.
Rafiah Ibrahim, President of Ericsson, Region Middle East and Africa, said, "ICT is transforming the way people work and communicate. People's lifestyles are changing; we are using more data to access products and services.  And we want the best experience when doing that.  And as devices are online and interacting, and as mobile broadband unite with cloud services, every industry that we represent today will find itself in a new reality.  At the Change-Makers Forum, we discussed the need to anticipate what the consumer wants, and create consumer needs.  In short, when disruption accelerates, we need to anticipate change and act to remain relevant."