Fluke Networks provides certification, troubleshooting, and installation tools for professionals who install and maintain critical network cabling infrastructure. At GITEX 2016, the company is showcasing its latest products and promotions across four stands, in collaboration with partners.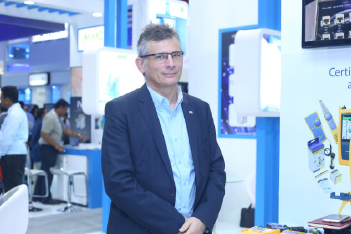 The company engineers designed the Versiv cable testing system to complete all tasks associated with testing cable installations, from planning and setup, through project management, testing troubleshooting and reporting.
"We create copper-fibre equipment which end users, specifically in data centres, tend to use to keep the infrastructure up and running. It is the fundament for everything that runs on top of it, including Internet of things, cloud and Big Data. We make sure that the infrastructure is up to standard and that the speed and the bandwidth are at a good performance level," said Werner Heeren, Regional Sales Director, MEA and Turkey, Fluke Networks.
"At GITEX this year, we're emphasising our 'trade in, trade up' programme. This promotion means that if someone already has one of our Versiv certifiers, they are able to trade in an eligible model to 'move up' to bigger profits. This initiative is known as: 'Get Smart. Go Versiv," said Heeren.
Fluke Networks are exhibiting across four booths at GITEX; Topnet, SMB, Mejdaf and Synergy. "We don't have our own booth this year, but we use our partners to interact with the market and represent our solutions. We get a broader visibility of the exhibition this way," said Heeren.