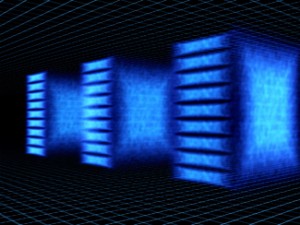 Faced with increasing competition and a fast paced global environment organisations are making investments in strategic IT investments that enable faster, flexible and secure operations at lower operating costs to enable effective ROIs. According to HP, the company's thin client initiative is a bid to leverage on these key market trends to help IT departments manager resources better and increase an organisation's operational efficiency.
At a workshop held in HP's Dubai office today, the company addressed the concept of the thin client environment and the benefits the technology has to offer to organisations across the globe.
In a thin client environment, workers do their computing on a 'virtual desktop' residing on a central server. Users then access the environment through a dumb client—a simple computing device that contains no hard drives or other moving parts, relying on the server for all computing resources.
The company believes that over the past 18 months, a series of advancements in both server and client virtualisation software technologies have converged to deliver powerful virtual desktop experiences that can rival those of traditional PCs in performance, yet far surpass PCs in terms of management ease, total cost of ownership, and flexible productivity.
Christopher Saul, business development manager, client virtualisation, HP, Middle East said, "Most importantly, a thin computing environment can greatly reduce the hassle of the OS migration process, as IT administrators don't have to worry if users install or accept updates in order to maintain a fleet of individual PCs.  Operating systems, applications, settings, and user permissions for the client endpoints—regardless of number or location—are all managed centrally."
"Even simpler still, HP includes wizard-based setup and deployment tools that enable thin clients to be rolled out in minutes, with just a few mouse clicks. And as all future ongoing system maintenance can be run from a single console, this simplified deployment and management saves IT time and money," he added.
HP also claims that the thin clients can reduce power consumption by upto 90% and generate no heat, which in essence would mean lower infrastructure cooling requirements.
From a security standpoint, the company pointed out that thin client technologies are easier to manage. This is because "when the end-user can't download anything to a local drive, the corporate network is far better positioned to ward off threats. Any updates to the malware definitions or filters need be applied only to the central server, which simplifies security management. And when the end-user has no local storage, sensitive data is protected from intentional or inadvertent leakage," said Saul.
"Whether you opt for a VMware, Citrix, Microsoft Remote Desktop Services (RDS), or even cloud-based approach to desktop virtualisation, HP can replace your traditional PCs with secure, power-efficient, easy-to-manage thin clients that enable your company to reap all the benefits enumerated above," he said.
The company introduced the HP 5325 as a variant designed as a low cost, high value access appliance that deliv­ers reliable business-class client virtualisation, HP t5335z Smart Client as  too smart to be called Zero Auto-sensing Technology that adapts to the environment and automatically identifies and connects to the right client virtualisation infrastructure in just second and the HP t5740 Flexible Series Thin Client as an appliance designed with the latest technologies to deliver a true PC experience.