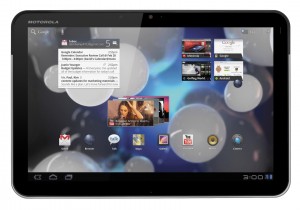 Motorola Mobility has become the latest player  in the Middle East's tablet market with its new tablet, Motorola Xoom.
"Motorola is a technology leader in the region and has produced a truly versatile device that responds to key consumer demands," said Raed Hafez, GM for Motorola Mobility, MENA.
"We take consumer needs very seriously, and Motorola Xoom offers customers the power of a laptop combined with the mobility of a smart phone as well as many other features exclusively designed for the device to meet these needs," he added.
The latest data from Gartner suggests the sales of tablets globally are set to quadruple by 2015, from an estimated 69.5 million in 2011 to 295 million through 2015. Combined with data from the latest Nielsen study indicating laptops/desktop computers placed a distant second with consumers after tablets, Motorola Xoom enables the connectivity, ease of mobility, and advanced technology that customers desire.
The results of the research show that portability is an important aspect of a consumer's buying decision for an appliance, with more and more people choosing mobile technology over the more traditional desk- and home-bound gadgets. Accoding to Motorola, Xoom is a clear example of the type of device that consumers have moved towards purchasing – bridging the gap between PCs and mobile phones with a tablet that allows the functionality and power of a PC delivered with the freedom of movement of a mobile phone.
The 10.1-inch Motorola Xoom Wi-Fi tablet with Android 3.0 Honeycomb is available now across the GCC retailing for AED 2,699.