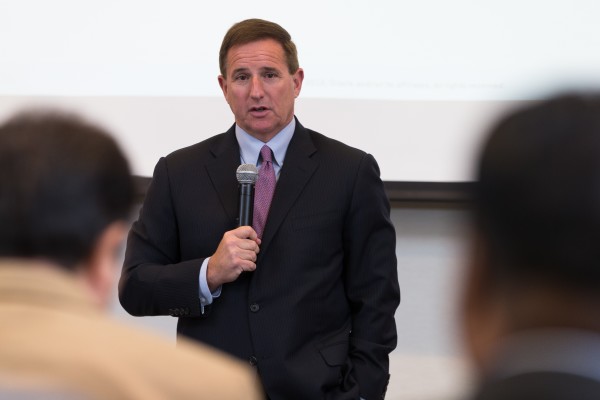 Oracle today announced that it will launch its first Middle Eastern data centre in in Abu Dhabi, but refrained from specifying when and where that will be in 2016.
CO-CEO Mark Hurd also announced at a press conference at Etihad Towers in the emirate that Oracle will hire more than 250 cloud sales professionals for the region. The move comes as the company has more than doubled its workforce in the Middle East in the past three years.
In the course of 2016, Oracle will also open new offices in Abu Dhabi, Dubai Internet City, Amman and Riyadh.
"When I was here last year, I discussed how we were 'planning' to have a data centre in the Middle East, but these plans are becoming a reality," Hurd said. "We're introducing this centre for improved latency and a more comprehensive localised service, as well as giving us the opportunity to tackle data sovereignity issues. We have a great partnership with the Government of Abu Dhabi and are committed to the growth of cloud in the region."
The data centre in Abu Dhabi, according to Oracle, will allow them to better manage the service level objectives and data governance for customers throughout the Middle East. The system environment at the data centre in the United Arab Emirates will be built using Oracle Engineered Systems.
When asked about the possibility of exploiting opportunities in Iran, following the lifting of economic sanctions after the country satisfied the UN's nuclear watchdog the International Atomic Energy Agency it had complied to a July 2015 accord, Hurd said, "As soon as the United States government has undergone all its necessary processes and regulations, we will follow up with any opportunities that may be available."