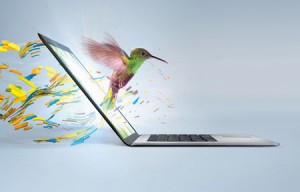 The rise of ultrabook laptops has boosted the popularity of cache solid state drives, which are a cheaper alternative to typical SSDs. Market research firm IHS predicts cache SSD shipments will explode, driven by Intel's ultrabook initiative.
Cache SSDs are part of Intel's ultrabook specification. These drives look like regular solid state drives but must run alongside a separate hard drive, and they offer faster PC boot-up times. IHS expects about 22 million of the 25 million cache SSDs this year to be built into the super-thin ultrabooks.
Cache drives will also be a PC upgrader's dream, giving a cheap SSD boost with really little hassle.
All the user needs to do to install an SSD cache drive (such as the corsair or the crucial cache SSDs announced at CES 2012) in a desktop system is install the device in an available SATA port of the computer.