Emitac, one of the leading system integrators in the Middle East and global IT leader HPE have collaborated in conjunction with CPI Media Group to host a webinar, which examined how together they can help businesses 'unlock' their digital transformation goals.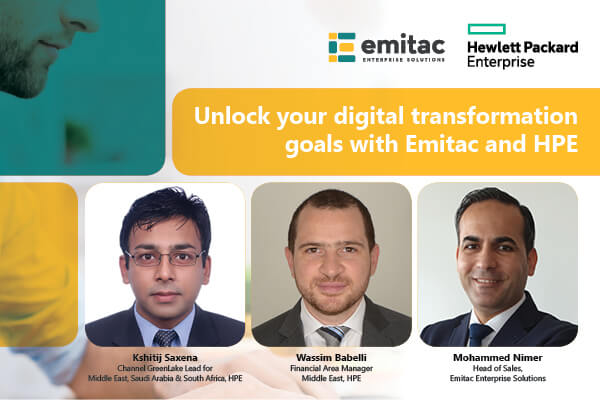 The webinar drew participation from a number of prominent thought leaders from within the IT ecosystem in the UAE.
Mohammed Nimer, Head of Sales at Emitac Enterprise Solutions began the session by giving a detailed overview of the successful journey that the company has embarked upon since its inception in 1976.
The Emitac executive said the company has managed to sustain its phenomenal success over such a sustained period of time due to a combination of factors such as its industry expertise and ability to forge strong partnerships in the IT industry.
Emitac is striving to support its customers for their digital transformation journey by being their trusted partner that can provide the right solutions at the right time at the right cost.
"Our vision is to be a trusted digital transformation partner. We strive to provide solutions to our customers that meet their specific requirements and exceed their expectations," said Nimer.
Nimer also highlighted how the systems integrator is providing inspiring solutions that 'truly matter'.
Nimer also highlighted how Emitac is providing inspiring solutions ranging from cabling up to the application layer for all verticals including Government (Local and Federal), Oil & Gas, Banking, Healthcare, and Retail.
These solutions (Hybrid IT, Security, Operations and Applications Modernisation, Cloud and other Next-Generation Solutions) are distinguished from Emitac side by:
Providing the highest level of partnership with the OEM's.
Certified professional teams from designing, implementation and services perspectives, in addition to certified and trained sales team.
Encapsulating these solutions with Emitac added-value services.
"We have the highest level of partnership with HPE, and our primary objective is to provide our prestigious customers with turnkey solutions from A to Z that help them to deliver the services they need to enhance their business operations and make their customers more happier," said Nimer.
Kshitij Saxena, GreenLake Channel Sales Lead – Middle East, Saudi Arabia and South Africa at HPE, delivered a highly engaging and forensically detailed presentation on HPE's GreenLake Solution.
Saxena acknowledged that COVID-19 has presented enterprises with a unique set of challenges and stressed the importance of managing and optimising costs during economic uncertainty. He then proceeded to discuss some of the trends that he described as 'compelling'.
"Our approach with HPE GreenLake is to build a true partnership model by helping customers plan on resources they need and outcomes they hope to achieve.".
"A few years ago, nearly every customer was on a cloud journey. We found that companies loved that public cloud experience,  but what we're now seeing is that customers realise that not all of their data can move to the public cloud. There are several reasons for that. The cost savings expected from the cloud were not really there. It's also to do with control and customers often do not have answers to 'who controls my data' , 'who has access to my data' and also 'where is my data'. It's also to do with compliance within the industry and/or within the company," said Saxena.
Saxena touched upon the various options businesses have had in terms of choice traditionally such as purchase and leasing/pre-provisioning – but highlighted the buying behavior changing to organisations preferring the hybrid cloud experience with consumption-based models emerging as the preferred option.
"Our CEO has announced that by 2022, we would have moved to being an as-a-service organisation and what that means for our customers is that we are already transitioning to be the edge to the core to the cloud platform as-a-service provider to our customers," said Saxena.
He added that HPE is seeing some of the highest ever customer satisfaction rates with GreenLake. The rapidly emergent model gives the customer the power to scale up in minutes, pay only for the capacity used, reduce risk by keeping key workloads on premise within IT's control. GreenLake further increases financial flexibility with no upfront outlay and also eliminates the cost of overprovisioning.
Saxena disclosed that enterprises on average overprovision by 59% on compute and 48% on storage and demonstrated how HPE GreenLake can help businesses save on costs.
"Our approach with HPE GreenLake is to build a true partnership model by helping customers plan on resources they need and outcomes they hope to achieve. HPE builds that infrastructure inside their data center in their control along with a buffer which they only pay for when used," said Saxena.
Saxena concluded his presentation by expressing what he believes really differentiates HPE GreenLake from other rival solutions.
"What truly differentiates us is that we are a complete and true consumption-based model. The differentiating factor is around control. Control over performance, cost, data sovereignty and latency. HPE GreenLake offers on-premise levels of control but with a cloud like experience. We also have really strong partnerships across our entire IT ecosystem including co-location. We can embed that into our GreenLake contract providing customers with data center services inclusive of infrastructure as a service, simplification and the economic model that they're looking for," said Saxena.
Wassim Babelli, Financial Area Manager, Middle East at HPE, was the next executive to deliver his presentation which was entitled 'The Power of IT Asset Economics.
During his presentation he mapped out the huge success HPE Financial Services has enjoyed and outlined the key role the company is playing in terms of assisting its customers with refinancing and relief packages during COVID-19.
"HPE Financial Services offered $2 billion in refinancing and new programs to help its customers and partners cope with the economic impact of COVID-19. HPEFS has launched programs that includes payment relief initiatives to help customers acquire new technology to navigate their way through the challenges they face in this uncertain climate caused by the global pandemic," said Babelli.
Babelli conceded that each company has their own specific KPIs and goals, but he said that HPEFS has positioned themselves to be an 'agent of change' and has helped their customers accelerate transformation.
"Our role is to work closely with our customers to help them execute their business objectives and then design a plan to help them acquire the technology they need to deliver their services. What we've discovered is that the majority of customers want to reduce costs, drive efficiency and minimise risk. Our investment solution allows you to leverage value on existing assets to fuel digital transformation by unlocking the hidden value in the existing technology assets," said Babelli.