Anita Joseph caught up with Amin Al Zarouni, CEO, BEDU, for a candid conversation on Web3, AI, VR and AR.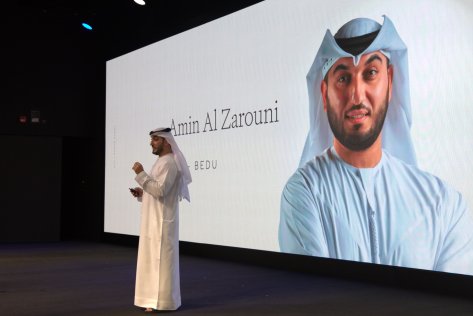 How is BEDU making a mark in the Web 3.0 Space?
BEDU emerges as a standout presence in the Web3 arena, boasting visionary leadership, an unwavering commitment to innovation, and a seamless integration of cutting-edge technologies including AI, VR, and AR. Our unparalleled expertise empowers us to design transformative digital encounters that captivate users in unprecedented ways. Leveraging the AI Builder Tool, we provide businesses with a smooth pathway to navigate Web3 complexities, unlocking fresh dimensions of creativity and interaction. BEDU's strategic alliances, industry leadership, and forward-looking strategy firmly position us at the forefront of Web3's evolution, making us catalysts in shaping its trajectory.
Whether it's through our diverse NFT initiatives and blockchain ventures or our immersive 2117 Mars virtual experience, we've demonstrated our dedication to the Web3.0 community. Our commitment lies in crafting a future-oriented Internet and positively contributing to the Web3.0 realm.
What makes BEDU different from the others in this space?
Amidst the fast-paced pursuit of quick gains in the Web3.0 realm, BEDU's distinctiveness shines through our unwavering dedication to the long-term vision. We're focused on building foundational elements that will provide lasting value to the future of the internet.
Moreover, our leadership's resolute commitment to value augmentation sets us apart. As a self-funded entity until this stage, we've proven our intent to make a resounding statement and showcase our prowess. Now, we're expanding our reach, launching an AI business line to further enrich the array of solutions we offer to our market.
What are your current projects?
Our slate is filled with diverse projects that showcase our commitment to innovation. In the realm of Web3.0, we're dedicated to expanding the UAENFT line, including anticipated sub-products like 'The Mint' and 'Fragile'. Our support for emerging Web3.0 artists remains steadfast through our carefully curated art program.
In the realm of immersive experiences, the crown jewel is our 2117 Mars virtual encounter. This flagship project continuously evolves to enrich the narrative and offer our holders an even more immersive journey.
Simultaneously, our focus on AI is crystallised through the AI Builder Tool, the cornerstone of our current pre-seed raise. This platform signifies a groundbreaking shift in how people engage with technology, which lays the foundation for the future of the internet and redefining digital and virtual experiences.
Please tell us more about the funding you've received?
Until now, BEDU's growth has been primarily self-driven, with the founders personally injecting over $3 million into the company. We've further boosted our development by channeling more than a million dollars directly into crucial areas such as projects, team expansion, and skill refinement. As we prepare to explore new avenues in AI, and aim to amplify our reach and capabilities, we're extending an invitation to investors through this pre-seed round. Please join us on this transformative journey.
Any important developments to be expected in the next few months?
Our BEDU AI venture has taken off with a diverse lineup of products and services. We're excited to announce the unveiling of two additional products at the Dubai Assembly for Generative AI, focusing on enhancing businesses' use of applications and generated data. At the same time, our UAENFT line continues to make significant strides, with the launch of 'Fragile' – an innovative concept that is reshaping art collection in the Web3.0 realm. As we approach the year-end, please keep an eye out for a significant update for our 2117 Mars virtual experience.