Mohammed Riaz – General Manager, GBM Dubai, tells Anita Joseph in an exclusive interview, how GBM is supporting customers in their AI journey.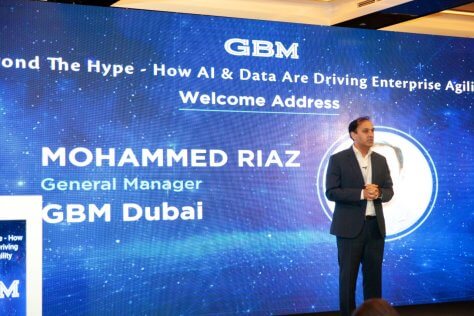 What was the purpose behind holding the GBM AI & Data analytics event?
Over the last few years of working with our customers, we've seen how they've had to digitally transform almost overnight with the digital disruption and shifts that happened. We've had the chance to help them embark on their AI journeys, and what we've seen is that a lot of organisations have large amounts of data coming in through various channels, but their challenge is trying to find the best way to make use of that data. So, we thought it was important to have this event and share some of the best practices and experiences we have, and from some of the leading enterprises that have embarked on the AI journey, and talk about the solutions and trends that are visible in the market.
Based on your experience, do you think customers are on the right track to maximising the value of AI and their data?
According to IDC, 37% of organisations surveyed in the UAE are planning to significantly increase their spending on artificial intelligence over the next 12–18 months. Organisations are trying their best to embark on or engage with AI initiatives, but it is a very demanding undertaking. Many UAE organisations are now recognising that AI is a foundational technology that requires organisation-wide transformation to realise its full potential. It's not as simple as just implementing the technology and everything is up and running. AI is one technology that touches every key stakeholder, from top management to the people who are going to make use of it, and that is why it requires a combined effort across the enterprise, as well as the help of a partner, like GBM, to make these projects successful. Collaboration as well as building trust around AI and Data are crucial elements in making sure adoption and willingness to engage with AI continues successfully.
How is GBM supporting organisations in their AI journey?
Being an end-to-end digital solutions provider, it is our obligation to make sure we provide 3 key things. Firstly, that we continuously educate our clients so that they understand what is happening in this industry and in this market, and they are empowered to make the right decisions. Second, as they embark on their journeys, we advise them in making sure they get access to the right tools, skills, technologies and other customers so they can learn from each other. Third, incorporating AI is a long continuous journey, and for enterprises to be successful, it is important to have a partner along the way to help overcome challenges and drive new inspiration and this is also where we play a key role. GBM helps their clients across the entire data and AI life cycle, from advising and designing to building an information architecture where advanced AI uses can be built, implemented and operated.
What are the opportunities available in the UAE market now?
In the UAE specifically, the government has been spearheading digital transformation, and developing future ready-infrastructure, with UAE businesses also speeding up their digital transformation to achieve their goals. We are increasingly seeing AI/ML, Big Data & Analytics being incorporated to prepare for the digital future. As the UAE seeks to diversify and digitise its economy, numerous ICT projects and smart city initiatives are already underway, and ICT spending in the country is forecast to reach US$23bn in 2024, according to research from GlobalData.
With the UAE working towards becoming a hub for innovation and technology, there are various opportunities for organisations to re-imagine how AI can improve their businesses. However, although most organisations are undergoing digital transformation, they are not all at the same level of maturity, and many are looking to AI to help derive meaning out of their data. While navigating this journey, businesses will need to overcome significant organisational and technology barriers, and identify and work with the right technology partners that not only possess suitable technology capabilities and skills but also have sufficient understanding of their industry and business.