The COVID-19 pandemic has forced companies to switch to remote working very quickly. While for many companies the transition went reasonably well in a short span of time, there remains a few challenges that are pushing business and IT leaders to re-think their strategies.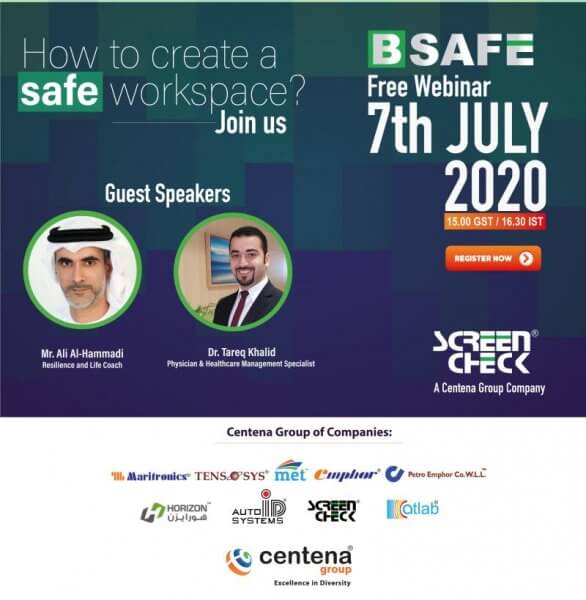 It's clear that remote working is here to stay and organisations are realising that to fully adapt to the 'new normal' they need to develop innovations that will enhance productivity while ensuring both the security of their systems and their workforce.
In order to provide regional firms with the latest insights into how they can boost workplace productivity and enhance operational efficiencies while navigating cybersecurity challenges, ScreenCheck is hosting its BSafe webinar.
With the theme 'How to create a safe workspace,' the ScreenCheck BSafe webinar will be held on Tuesday, 7th July 2020 at 3:00PM GST. The event will feature top experts from ScreenCheck as well as guest speakers including Physician & Healthcare Management Specialist –Dr. Tareq Khalid and Resilience and Life Coach – Ali Al-Hammadi.
"ScreenCheck team is on a daily mission to listen to society and ensure we can be part of bettering lives by providing apt solutions. The impact of covid-19 pandemic has had an adverse influence in our daily businesses. It is now the right time to interact with each other and discuss the challenges which we are facing daily and how we can implement upbeat steps to overcome these waylays," the company said in a statement on its website.
ScreenCheck's BSafe webinar will focus on how to:
deal with short-term challenges
gain employee confidence at workplace
learn more about solutions to overcome this current situation
ScreenCheck Middle East, a division of the Centena Group offers end-to-end solutions in identification, biometrics, security and tracking across twenty-five countries in the Middle East and Africa
To register for the event, click here!