Nitya Ravi speaks to Dr. Cherif Sleiman of Safe Security who explains the mistake organisations are making when it comes to Enterprise-wide security breaches.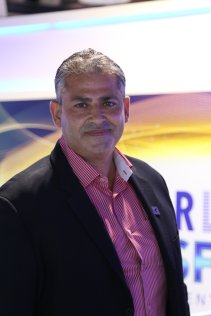 Dr. Cherif Sleiman, Chief Revenue Officer at Safe Security believes organisations should take a closer look at Cyber Risk Quantification (CRQ) and start understanding it better as to the future benefits it provides organisations in helping mitigate enterprise-wide security breaches.
Safe Security, a new startup headquartered in Palo Alto is backed by John Chambers, ex CEO of Cisco, British telecom, PayPal and other luminaries who believe that there must be a different mindset to handling risk management.
"We are here to create and spread the awareness that there are alternatives to 'let's pile up more and more security controls", says Sleiman. "In the next four years the global spending for cybersecurity products and services will topple 2 trillion. This is how much we spend to protect ourselves as people and organisations. The economic loss by cybercrime at the end of this year will exceed 6 trillion heading towards 11 trillion by 2025, according to Cybersecurity Ventures. True but hard to digest".
"Safe Security as a pioneer in CRQ space is focused on helping organisations understand that there has to be a different mindset when it comes to securing their digital footprint. During Covid, there has been an incredible amount of digital acceleration. The rate at which organisations are embracing digital technology including SAAS, machine learning and AI to retain and attract customers and to simplify their processes is high. They are becoming digitally inclined which means there will be a lot of moving parts. There will be lots of people from an organisation working from all sorts of places, devices etc. making it difficult to be controlled and making them vulnerable to hackers. Cyber risk quantification is about understanding and accepting this challenge to put in place a robust system to mitigate the risk effects".
Sleiman goes on to add that organisations are susceptible to losing information not only through organisational network but also through partner networks. He cites the latest example of the Apple – Fitbit leak through GetHealth.
Dr. Cherif Sleiman goes on to talk about the star product of Safe Security, SAFE platform.
"SAFE is a SaaS platform which is enterprise wide, which means, it doesn't just look at technology alone but people, third party technologies, cybersecurity policies and procedures of an organisation in an integrated fashion to understand their risk posture. We deliver a score for every atomic level of your organisation. Every person, endpoint, application, policy, every third-party technology is scored. It's a predictive platform that aggregates all information to come up with a breach probability".
Safe security is launching their channel partner program this GITEX 2021 and is also signing a distribution agreement with StarLink.
"We work with influential organisations that not only subscribe and believe in what we do but also who fundamentally have the influence and footprint to help bring about that change. StarLink  is genuine in solving the cyber security issues we deal with. They can blanket all cybersecurity products with a surgical view of addressing risks in a real time fashion. We are delighted with this partnership", concludes Sleiman.