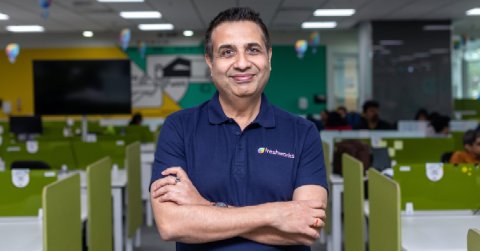 Article by: Manish Mishra, Head, Middle East & Africa, Freshworks
The war for talent is playing out across the globe, and UAE employers are no exception. Many are experiencing huge challenges in recruiting and retaining the people they need to thrive and grow. Demand for skilled employees has never been higher and competition for talent is fierce, exacerbated by factors such as remote work, new types of visas, a greater focus on flexibility by employees and more.
There's no doubt that employees are at the heart of an organisation and it's their efforts that enable businesses to succeed. That said, it's not always easy or feasible to fuel growth and expansion – especially in times of economic uncertainty – by growing the workforce. In the current climate, it's increasingly difficult to attract and keep good people, and that heavily impacts a business's ability to satisfy customers.
Turning to technology is therefore an attractive solution. And tech is certainly an effective way to streamline businesses and create efficiencies. But with artificial intelligence (AI) being touted as the silver bullet to all business challenges, actually implementing practical use cases can be both challenging and intimidating.
Given the talent crunch, conversational AI is a smart place to start. This is the tech that allows chatbots, or virtual agents, to have online conversations. This AI subset uses concepts like machine learning, neural networks and natural language processing (NLP) to build chatbots that can engage customers virtually and rapidly resolve their issues.
Here's how conversational AI can help fuel the expansion of organisations, without the need for hiring extra resources.
24/7 support on any channel
Conversational AI chatbots can support customers on any channel all day, every day. This means it doesn't matter where your customers are from, or what time they reach out – the AI chatbots are ready to engage. You can make them available on your website, and on social channels like Facebook Messenger and WhatsApp. This is a great service for customers, who can get in touch using their favourite channels, whenever it suits them.
These chatbots can smoothly handle simple questions or issues and, furthermore, they can then add more information to provide an even better service. Rather than simply explaining how to return an item, for example, the conversational AI chatbot can then ask the customer what was wrong with the product. This not only gives customers a better experience, it also gives your business some useful immediate feedback.
Of course, organisations should expect there to be more complex queries that a chatbot cannot resolve. But in such cases, these bots can either pass the conversation immediately to an agent, or gather details for an agent to follow up on as soon as they can. Either way, it keeps customers happy as they aren't ignored out of standard working hours, and expectations have been set. Not only that, the agent will have the information they need, empowering them to more readily resolve the issue.
Provide multilingual support
People generally prefer to be spoken to in their native language, with research showing that you can boost the likelihood of repeat buys by 73% if you provide support in your customers' native language. Because the UAE is made up of a diverse mix of cultures and has a huge expat population, many organisations need to support different languages. And not only that, as your company grows, you'll potentially start winning customers from other regions and countries. This is particularly likely today as most businesses have a digital presence, making it easier to reach a global audience. It's even more important to be able to provide multilingual support to all customers if this is the case.
Of course, it's not viable to employ people from every region to serve customers in their native language. With conversational AI chatbots, you can provide multilingual support as they're equipped with translation software. This is an extremely useful resource, particularly for companies operating in a multilingual region such as the Middle East.
Enable upselling
Chatbots are increasingly commonly used to resolve customer tickets and issues. However, conversational AI chatbots can also be used to upsell to customers – and so far, this capability is much less widely utilised. These chatbots can understand customer preferences and context by making enquiries and learning from their purchase history and cart details. This enables them to provide relevant recommendations to upsell and cross-sell, suggesting products and services that customers might want.
Conversational messaging and this kind of proactivity is an excellent way to engage customers, and the technology can be utilised to reach out to customers with updates, reminders and campaigns based on visitor activity. Companies can use AI chatbots to collect visitor data over time and can use that information to qualify leads, and then to assist the sales team with converting those leads.
Beating the talent crunch with conversational AI
There are many benefits to utilising conversational AI chatbots. Implementing a conversational messaging solution improves customer satisfaction, while at the same time streamlining processes. During this era where companies are fighting for talent, it's never more important to make teams more efficient – and happier – by automating simple, repetitive tasks and focusing resources on more skilled and higher-value activities.