CNME Editor Mark Forker spoke to Fady Richmany, Regional Vice President, SEEMEA at Commvault, to find out how the company's solutions such as the Power of AND are empowering their clients with the ability to accelerate their digital transformation journey, which has laid the foundations for their best-ever fiscal performance.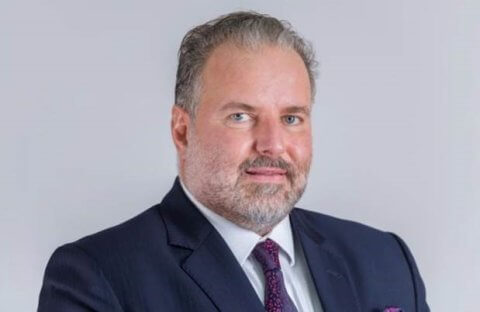 Fady Richmany is undoubtedly one of the most respected and revered IT leaders in the Middle East with over 30 years of industry experience. He has worked with some of the world's most innovative companies during his decorated career, and now he has been tasked with the responsibility of leading Commvault's Go ToMarket plan as they look to expand and grow their business portfolio across the region and in new emerging markets. Richmany works closely with Commvault's strategic partners to solidify their position as a leader in data protection, whilst they have also tailored new solutions to address the new demands of their customers. In a candid interview with CNME, the charismatic Commvault executive talks about their record-breaking financial performance, their investments across the region, the rise in ransomware attacks – and what differentiates the company from their market rivals.
Over the last 12 months, Commvault has solidified its position  as  a  global  leader in data protection, and that has been reflected in your economic performance with the company recording its best fiscal year to date. Can you outline to our readers what has been the key to your success over the last 12 months?
We are proud of our record- breaking performance over the last 12 months. It was the best Q4 and fiscal year in the company's history and we are on track with consistent and predictable growth. SEEMEA is contributing to this as we have expanded our client base and grown the business in the region. This is reflected in our double-digit growth and market share increases across all the significant SEEMEA economies. Key to our success is our ability to deliver solutions that resonate with our customers. Digital transformation and data protection are both strategic business priorities, and we not only have a long history in this space, but we also have a platform that differentiates ourselves by offering enterprise-grade software and Software-as-a- Service (SaaS) offerings that work together with a single pane of glass view. We call this 'the power of AND'. To explain further, most companies today, including Small Medium Enterprises (SMEs), mid-sized business and large enterprises have adopted a 'cloud first' strategy coupled with the requirement to protect their most valuable asset – data -commonly known as the lifeblood of a company. We are uniquely positioned with these two priorities, particularly as we see a sharp increase in cyber crime and most notably, ransomware. We at Commvault believe this is our time as we have the best unified platform in the industry that delivers all intelligent services, data protection, data security, data governance and compliance, data insights and data transformation.
Commvault has invested significantly on a global scale in terms of investments it has made in its team, solutions, and innovations. There is huge opportunities across the SEEMEA region, but how do you plan to maximise and grow your market share in the region?
There certainly are significant prospects in SEEMEA for Commvault and in particular, the Middle East, and we have a clear strategy and huge growth potential inthese markets. If we look at statistics published by IDC, the research house predicts that "digital transformation investments in the Middle East, Turkey, and Africa (META) are set to double across the 2020- 25 period." The firm says that digital transformation spending in the region will accelerate at a compound annual growth rate (CAGR) of 16.6% over the five- year period, topping $58 billion in 2025 and accounting for 40% of all ICT  investments  made that year. The pandemic contributed to the acceleration of digital transformation as employees increasingly work from home and distributed environments. We have created a strategy specifically for emerging markets the SEEMEA region which covers 75 countries, segmented into five clusters and further broken down into Tier 1, 2 and 3 countries. Our 'go to market' strategy is to focus on the well – established top five Tier 1 countries in SEEMEA, namely UAE, Kingdom of Saudi Arabia, Austria, Turkey, and South Africa. Partners play an important role in the growth strategy of these countries and we are engaging with them to fully leverage our value proposition of our game changing Metallic 'as-a-Service' offering combined with our software. Our offering is geared to meet the demands of rapid digital transformation and we have an established eco-system in these countries to support this growth.
We know that over the last few years cybersecurity attacks have skyrocketed and businesses know that it's no longer a question of 'if' I get attacked, but instead 'when'. However, Commvault is determined to deliver ransomware protection to its customers. Can you outline to our readers how you plan to do that?
Ransomware is a security issue, an IT issue, a policy issue and now, a C-Level organisational issue. Organisations are currently experiencing IT Collision where CIO, CEO, and board member priorities have converged. As organisations continue to accelerate their journeys to the hybrid cloud in 2022, they must pre-emptively plan for the inevitability that they may experience a business disrupting cyberattack – like ransomware. Our recent acquisition of ThreatWise, a leading cyber deception company, has positioned us to prevent ransomware events by exposing threats that bypass traditional controls. The acquisition was not to position Commvault as a cyber security company but rather a data protection company that provides the best security tools to ensure our customers' have a clean copy of data that is protected and 100% free of ransomware infection. There is a relationship between data protection and security and our goal is to ensure our customers' data is never compromised. This is our time as ransomware threats are not going away, and bad actors will further increase in activity over time. We continue to innovate and be creative with our leading edge Commvault and Metallic offerings to mitigate the risks from ransomware attacks and ensure recoverability of data in the event of a breach. We do this by building layers of technology and processes that give our customers peace of mind and reassurance that they can avoid, and if necessary, recover from a ransomware attack. This is particularly important because when it comes to ransomware, as it is not a matter of 'if' but rather 'when' an attack will occur. Our customers need to ensure they are prepared, and we are helping them with our industry-leading solutions. These  solutions  have a two-prong approach whereby they provide businesses with the ability to prevent a potential attack and successfully recover in the event of a breach. This is achieved through resources, skills and expertise that underpin our protection and prevention services. The resources and expertise are offered as a professional service based on our 'ready, steady and respond' phases that align technical capabilities with recovery objectives, assist in monitoring and maintaining a state of recovery readiness, and then accelerate the rate at which a company returns to its normal business operations in the event of an attack. We also see data sovereignty becoming more of an issue, particularly with government, making it imperative for us to create partnerships with hyperscalers, such as Microsoft Azure in the UAE and AWS in Bahrain, that have established local data centres and a presence in SEEMEA countries. This is essential with a proper ransomware defence strategy. Other alliances include local CSP partners with companies such as Injazat, a leader in digital transformation, cloud, and cyber security in the UAE. We also recently concluded a CSP contract with Group 42.
Commvault has customers in global industry verticals such as government, telecommunications, finance, and education, but which one of those industries represents your biggest vertical?
Data protection and data security top the charts in terms of priorities at a board level. Together with our unified platform and intelligent service, we can handle any customer of any size, in any industry. More than 100,000 organisations trust Commvault with their data, and we have established a strong footprint in industries such as defence, education, health, transportation and public security, to name a few. We are in a fortunate and opportunistic position in the SEEMEA region where we are relevant to every single customer across every single industry. Today, data is the most valuable asset; it is the lifeblood of any organisation. We are the company that excels in data management, protection and security, which makes us relevant to all verticals – be it education, healthcare, energy or government. The public sector with the branches of state and local governments having highly distinct data needs is a key vertical for us. Another stronghold  for  us is the banking and financial sector where built-in business continuity, disaster recovery, and personal data privacy and information governanceare top priorities when looking for data protection and recovery services. Commvault makes it easy to simplify IT infrastructure, handle data growth and move to the cloud with minimal risk. Education and healthcare continue to grow in prominence, having emerged from two years of living in a pandemic where factors like home-based learning and contact tracing measures have driven the need for data analytics such as patient care, vaccination status and increased data consumption from endpoints and the cloud for virtual classes. No matter which industry, customers want choice and flexibility – all of which we offer – allowing them to meet new business needs with less of a burden.
As mentioned above we live in a work from anywhere hybrid world and that has led to an increase in adoption of multi- cloud environments to support SaaS based applications. Can you tell us more about your enterprise-grade SaaS solution Metallic and what sort of impact that has had in the marketplace?
Globally, Metallic continues to scale and contribute meaningfully to our Annual Recurring Revenue (ARR), revenue and total customer growth. In the past six quarters since Metallic has been launched globally, we have crossed a milestone in ARR – reaching $50M. We are leading the way in a cloud era with intelligent data management.  Yet if we look at our 26- year history in data management, we have achieved a number of milestones. From 2008 to 2010, we offered backup and recovery with a patented 'no limits' architecture for data protection. Our next innovation up to 2019 was seen with the intelligence we injected into our data management platform with Artificial Intelligence and Machine Learning. This enabled us to expand workloads and drive use cases. What sets us apart now is our unified data management solution that extends across multiple platforms, creating a cohesive view and management spanning on-premises, cloud and edge, including legacy and modern architectures. Our flexibility is seen in our offering of Software and SaaS, used individually or in combination, often exceeding our clients' expectations. Today, Metallic is our advantage – offering customers the Power of AND – allowing them to embrace our software AND SaaS at will. Since its adoption in the Middle Eastern market nearly six months ago, we have seen an impressive uptake from our customer base. We have also seen our customers needing more complex, wide-ranging, and covering data protection solutions to manage their critical assets across all environments, and that's what we can offer to our customers with the Power of AND. There are a number of compelling benefits to customers such as time to market. Businesses can now have our services up and running in a matter of days and weeks rather than six to nine months due to the commissioning of hardware. It delivers agility, efficiency, and a cost reduction due to its Opex finance model where the customer paysfor what they consume. Furthermore, as these companies scale, the 'pay as you grow' concept means they don't have to invest in future capacity requirements up front. Importantly, our enterprise software 'brain' is at the heart of our Metallic 'as-a-Service' offering, providing the same unified platform and intelligent services, data protection, data security, data governance and compliance, data insights and data transformation. Metallic has allowed us to offer a cost-effective, efficient, data protection and business continuity solution to SMEs that features simplicity without the investment of a data centre and is quick to implement. It also caters to any workload. For mid-sized businesses that may have potentially invested in a data centre, with a mix of workloads sitting on-premises and in the cloud, Metallic provides a unified platform. Larger enterprises usually have the requirement for a data protection solution that spans legacy infrastructure, such as IBM mainframes, alongside later technology including virtual machines and virtualisation. Add containers and different forms of Kubernetes with different flavours of databases, and native cloud applications such as Salesforce to the mix, and Metallic provides a unifiedplatform that supports all of these systems, technologies and architectures. Customers want choice and flexibility – all of which we offer – allowing them to meet new business needs with less of a burden. Today, Metallic is our advantage – offering customers the Power of AND –allowing them to embrace our software AND SaaS at will. This is the power of Metallic. Already launched – and with many customers already – in the UAE and Saudi Arabia, and having recently announced Metallic GA in Qatar, we are especially pleased to bring secure, scalable, compliant, and cost-effective data management to our customers here. Furthermore, we will continue investing in the SEEMEA region. With this increased availability in our region, we look forward to more opportunities as the solution grows in popularity. Not to mention that we have a few new features in the pipeline for later this year!
Commvault is a global leader in data protection, but what differentiates you from your rivals?
There are a number of differentiators but what sums it up is our ability to 'liberate people to do amazing things with data'. We have a unified solution providing a consolidated view through a single pane of glass, and data that is protected on any platform whether it be cloud, on-premises or hybrid. In addition, our solution includes built in ransomware detection, protection, and recovery from an attack. Yet, in order to understand the real differentiators at a deeper level, we need to look at the five key data challenges that businesses face and how our intelligent data services solve these issues. Collectively, the challenges below form a 'business integrity gap', highlighting the void between where the company's data is today and where it should be for organisations to thrive, accelerate, and digitally transform. Commvault bridges this gap with its portfolio of Intelligent Data Services, closing the business integrity gap and enabling companies to execute on their digital transformation strategy and accelerate business growth Data sprawl introduces risk and stalls business growth – as companies continue on their digital transformation strategies, there are a number of challenges faced. Data now resides in various locations which results in data sprawl. This introduces complexity and with workloads evolving over time on different platforms, risk is introduced to business. Data environments need to be coordinated and ordered for businesses to not only digitally transform but also thrive. Our data protection addresses 'DataFragmentation and Failure Points', allowing organisations to manage data across the industry's broadest ecosystem and ensure data availability
Increasing surface for cyberattacks – as employees increasingly work from home and edge computing gains traction, this is creating an expanded attack surface. Cybercrime is continually on the rise and as such, companies need to not only prevent themselves from ransomware attacks but also have a clear, defined strategy and technology in place to restore data that is free from ransomware. Data Security mitigates the "Increasing Surface for Cyberattacks" by providing protection and recovery from security threats, including ransomware and other data breaches.
Regulation and privacy requirements – General Data Protection Regulation (GDPR) has forced organisations to review their data protection and privacy in order to comply. Itmade companies reassess how they collect, store and manage personal data of EU customers. Commvault's data governance software has simplified this compliance requirement forcompanies and delivered peace of mind by enabling businesses to understand where their data lives, how to manage and remove unnecessary personal data and protect the data that needs to be accessed. Commvault's Data Compliance & Governance deals with 'Heavy Government & Societal Demands' by facilitating compliance with data governance and privacy regulations, including GDPR and CCPA to will allow you to expand your business into new regulated markets.
Inability to scale and innovate with market demands – as data continually increases exponentially, businesses face the challenge of managing their data – one of the most valuable assets in an organisation today. In order to innovate and scale, companies require a data management solution that takes the pressure off IT resources. Commvault streamlines hybrid cloud data protection with automation and orchestration that takes the burden off IT, so they can refocus their energy on projects that drive business results. Data Transformation covers the 'Inability to Scale & Innovate with Market Demands' by enabling the shifting and repurposing of data across environments for application modernisation via DevOps and for increased data access and connectivity for lines of business leaders (LoB).
A lack of autonomy process efficiency – it is widely acknowledged that the cost of managing data outstrips the cost of storing data. By introducing autonomy process efficiency, Commvault is able to simplify, automate, and consolidate their data management operations. Even as data volumes grow, Commvault customers can confidently manage that growth and find huge gains with the Commvault platform's ability to automate tasks for data management processes. Data Insights addresses 'Lack of Automation and Process Efficiency' by applying data use patterns and machine-learning driven data insights to drive operational efficiency and cost savings for IT operations.
At Commvault, we execute and remain focused on what's in front of us but are also aware of what's ahead. We are innovators and have been innovating for 26 years. This is a key metric of success and one we hold ourselves in high regard for – and we continue to deliver. The industry has recognised us for 10 consecutive years, having named us a Leader in Gartner Magic Quadrant for Enterprise Backup and Recovery Software Solutions. Commvault also achieved the highest score across all three use cases in the 2021 Gartner Critical Capabilities for Enterprise Backup and RecoverySoftware Solutions, and GigaOm Radar 2021 has reported Commvault a leader and outperformer. These accolades are not easy to achieve. We displaced the incumbent vendors this past quarter – legacy and upstart. Customers want choice and flexibility – all of which we offer – allowing them to meet new business needs with less of a burden. Also, Metallic is our differentiator, and with the Commvault single platform supporting any required vendor environment, in just one pane of glass, we can handle even the most complex data protection task with the Power of AND. No one else has this breadth and depth. We win because we help protect, manage, and migrate on-premises workloads to multiple clouds – with only one solution. I am truly confident that we have the right team, bothin SEEMEA and internationally, to outperform. We are confident and closer to our customers because we understand their needs and we can fulfil them, alongside our partners and distributors as they see the growth opportunity that is coming. And now, it is truly our time.