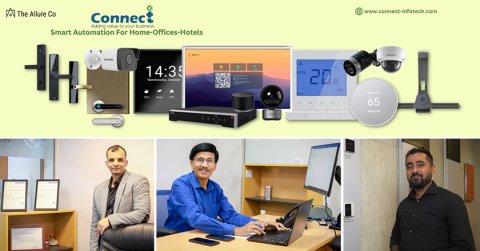 Irfan Shaikh, Group Managing Director, Office Connect Group, Dubai & Vikram Dulani, General Manager, Office Connect Information Technology, Dubai spoke to Anita Joseph about how the company puts the customer at the heart of everything it does.
Tell us all about Connect Infotech and the company's presence in the region.
Picking up on the ethos of our principal group company, Office Connect Goods Wholesalers LLC has been operating on the B2B business model since 2015, serving more than 700 corporate offices such as ENBD, FAB, key government institutions like MOF, DM and RTA, corporates such as GEMS, DU & AGI IDO, making us the leading pantry and office specific consumables delivery supply company in UAE. We kept growing and soon expanded to four more companies under the group umbrella.
Instead of focusing on profit-conscious model of operations, we keep pace with service orientation to the whole lot of customers, supply chain, inhouse human resources, staff families, needy people in the society
Other affiliated companies under office connect Group umbrella is SPS Technical and Cleaning Services, Office Connect printing LLC, The Allure Co and Office Connect Information Technology.
Office Connect Information Technology delivers a variety of technology related services in the range of smart office / hotel / home automation, security, networking, cloud services, web services, digital marketing, software services etc.
The Office Connect Information Technology Management has turned usual thinking on its head to make customers office landscapes unique to make-things-happen according to modern way of office functioning.
In an era of digital transformation, how is Connect Infotech helping customers' transition seamlessly to smart living?
Smart living refers to the use of technology to create intelligent and connected environments such as smart office, home and hotel to various systems such as lighting, curtains, and security systems, and entertainment. These systems can be controlled remotely through a smartphone or other device and can often be programmed to work together in order to provide a more convenient and energy-efficient living space. We can help them to live a smarter, more connected settings and lifestyle.
Automation is the trend today. What are some of the automation services that you help customers with?
Yes, smart automation is becoming increasingly popular as technology advances and the cost of smart devices decreases. We offer a variety of products and services to design smart homes, offices, and hotels.
Smart Offices: We transform office spaces into inspired workplaces by equipping it with technology that allows for remote control and automation of appliances and systems such as lighting, HVAC, security, and audio-visual systems. Our AI-Powered Video Conferencing & Content Collaboration Device increases the efficiency of the organisation exponentially.
Smart Homes: A range of smart home automation products are on offer, such as smart plugs, smart switches, smart cameras, smart thermostats, smart door locks, and smart sensors for motion and temperature. These products can be controlled through an app on your smartphone, a touch panel on your wall, or through voice commands using Amazon Alexa or Google Assistant
Smart Hotels: With our GRMS technology, hotels can enhance the guest experience and improve efficiency. This can include things like corridor panels, digital room keys, automated check-in and check-out, and the ability to control room features (such as temperature and lighting) using a smartphone or other mobile device. Corridor panels and in room panels that
What plans do you have for the region for 2023?
The smart home automation market in the Middle East is expected to grow significantly in the coming years. According to a report from Mordor Intelligence, the smart home automation market in the Middle East and Africa is projected to grow at a CAGR of around 15% during the forecast period of 2018 to 2023.
In the next couple of years, we expect to see more advancements in smart home automation technology, such as more sophisticated and integrated systems, the increasing adoption of artificial intelligence and machine learning in smart home automation systems is expected to drive growth in this market.
Increase market share: The goal is to increase our market share in this region by building a strong brand presence and establishing partnerships with local companies in the target markets to help with reselling and system integration.
Increase brand awareness: Increase brand awareness in the target markets through marketing and advertising campaigns, events, and sponsorships.
Online and Offline Sales: Develop a strong online presence through our website and social media presence, while also establishing a network of physical retail and experience centres where customers can see and interact with our products.
Provide excellent customer service to ensure customer satisfaction and help foster long-term customer relationships.