By: Naji Kazak, Managing Director, EMEA at Kodak Alaris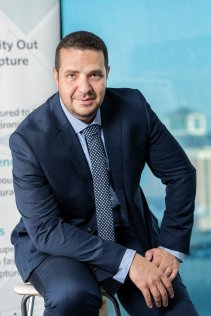 COVID-19 has been a massive catalyst for digital transformation, but companies need to do more than implement short-term solutions that enable remote work. Businesses with an eye to fully automated workflows will enjoy benefits that far outlast the pandemic.
Work From Home – Work Must Go On
Working from home isn't exactly new, but the need to work from home is. When it became apparent that social distancing would be a key tactic to slow the spread of COVID-19, immediately closing office buildings was the natural response.
In fact, it is likely that companies' familiarity with remote work — if only on an occasional basis — has smoothed the rapid transition and enabled ongoing operations.
However, this urgency has served as a sort of double-edged sword: While it is responsible for the rapid transition to remote work policies, it is also responsible for quick fixes that may do more to hinder than help workflows in the long run.
No one knew how long closures would last, and so many companies settled on easy solutions for what would surely be short-term needs — for example, digitising paper-based information so that employees could access it, even if responding to and generally working with that information wasn't convenient.
Fast-forward and those short-term needs are still with us. What's more, what seems to be a fundamental shift is society's attitude toward remote work suggests workers need more permanent and far-reaching solutions.
Urgency Spurs Tech Adoption
Companies that embrace digital transformation are more successful than those that lag behind.
Digital companies typically have a superior customer experience, better employee engagement and retention, and increased business growth and profits, among other benefits. What's more, manual processes can cause companies to miss opportunities, make ill-informed business decisions, and lose clients to competition.
In the midst of this global pandemic, these realities take on even greater importance: Digital transformation is no longer a question of "sinking or swimming" over an extended period of time, but of sinking or swimming now. Technology adoption has been one of the single biggest factors in ensuring business survival.
For instance, grocery stores have turned to online ordering and curbside pickup, restaurants have implemented QR code menus to minimise shared objects, and healthcare organisations have relied on telehealth platforms to provide virtual care.
For companies that have turned to remote work, tech adoption has meant using equipment such as document scanners, mobile devices, and multifunction printers (MFPs) as specific needs arise.
While this ad-hoc tech usage may be effective for immediate needs, the lack of a long-term strategy becomes a problem as the technology becomes more integrated into everyday remote work operations.
From Digitising Paper Processes to Fully Integrated Workflows
Getting the right information to the right employees is challenging enough when everything is paper-based and everyone's working remotely, but the issue is greater than that.
Enabling digital workflows isn't just about scanning paper documents into electronic files so that the immediate task at hand can be completed, but about automating the processes themselves so that work can be carried out efficiently and effectively over the long term.
This automation requires taking a close look at business processes, reengineering them as needed, and investing in technology that goes beyond simple document capture.
For instance, when faced with these issues, Xenith Intelligent Workplace Solutions teamed up with Kodak Alaris to create a new Scan@Home Solution with preconfigured automatic workflows. Built on Kodak Alaris' INfuse Smart Connected Scanning Solution, the offering enables workers to save information to the right place, send documents to the right person, and scan directly into line-of-business systems from home — all without a PC connection or local software.
Businesses that follow in Xenith's footsteps will see greater productivity (with faster information onboarding and accelerated workflows), accuracy (with better information capture technology and thus fewer data processing errors), and profitability (with cost-saving efficiency that boosts the bottom line).
A Cultural Shift
Society's perception of remote work — already inching toward greater acceptance in recent years — has undergone a significant shift.
While many statistics focus on job losses during what has certainly been a challenging economic time, the other side of the coin reveals that we have gained numerous new remote workers as a result of the pandemic — and almost two-thirds of those working from home during COVID-19 want to keep it that way.
Remote work seems to be here to stay, and digital transformation will continue to facilitate it. For companies that haven't embraced it, now is the time to invest in the digital transformation strategies that enable remote work, and in the technologies that spur digital transformation.