Alaa Elshimy, Managing Director and SVP, Huawei Enterprise Business Group, Middle East penned this exclusive op-ed for November's edition of CNME, in which he examines the impact digitalisation is going to have on the energy industry over the next decade.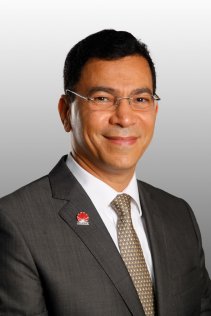 The COVID-19 pandemic has served as a reminder of the benefits of having a strong digital transformation strategy to ensure business continuity. This is especially the case for the oil and gas sector, which remains a pillar
of many national economies in the region. Nevertheless, the oil and gas industry as a whole still has room for more digitisation, a point reinforced in recent studies such as Deloitte's Digital Maturity Index.
In today's environment, there is an enormous opportunity for oil and gas companies to revitalise themselves and to push for real gains as the economy recovers from the effects of COVID-19. The industry should convert its challenges into opportunities for the future and take this moment to help revolutionise the energy sector overall.
In particular, oil and gas businesses in the Middle East can now reap the benefits of investing in advanced technologies to improve operational activities, enhance their HSE plans, and bolster exploration and production.
On an operational level, leveraging emerging technologies such as AI and IoT can further enable real-time equipment and environmental conditions monitoring, while also providing transparency and greater control over processes. Through deeper ICT-led automation, companies' operations can also be maintained and can continue to be productive even when dealing with a shrinking workforce.
This will prove especially beneficial for business continuity as public health policies around COVID-19 evolve, aimed at protecting the health and safety of human resources. Speaking of human resources, the oil and gas industry still very much depends on people. Using digital tools to safeguard your workforce's health and safety must remain a top priority, especially as we begin to recover from the COVID-19 pandemic.
The use of eLTE chips inside wireless gas detectors, for example, can connect personnel to the control room and the concerned HSE team members in real-time and rapidly report an alarm once a risk is detected.
An AI camera will then automatically focus on the person until he is rescued. This helps to prevent accidents
and reduces losses. Through advances in IoT, we can now also make it possible to use a single, function-rich terminal for more effective inspection as well as audio and video communication. Precise tracking of personnel and assets in turn improves dispatch and command efficiencies.
In addition to operational activities and HSE, today's high-performance computing (HPC) solutions are also a strategic advantage in the race to discover oil. Mass information must be rapidly processed to accelerate decision-making.
Holistic solutions that integrate a company's hardware, systems, and cluster management, are now available to decrease the average service processing period from hours to minutes – and decrease the service processing error rate by more than half.
IDC and Huawei recently proposed a detailed methodology for the transformation of electric power enterprises in the whitepaper Building the Future-Ready Power Enterprise: Road to a Successful Digital Transformation. As the advance of global energy reform and digitalisation develop, it will ultimately enable enterprises in the region to deliver greater business value, and at scale