CNME Editor Mark Forker secured an exclusive interview with Ola Lind, Serial Entrepreneur, and Director of FinTech Futures (FTFT) and cryptocurrency platform SobitX, to learn more about its decision to launch a joint venture in Dubai with blockchain company SOSOB, the benefits of its SobitX platform for crypto-traders – and what the future holds for blockchain technology.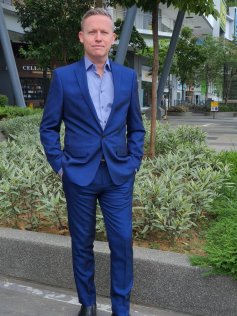 The topic of cryptocurrency has certainly become more and more mainstream in the last 18 months and has emerged from the periphery of importance for global investors. Ola Lind has enjoyed a decorated and distinguished career in implementing disruptive new technology in industries such as marketing, gaming and blockchain, whilst he is also a highly regarded angel investor.
Lind is a director at NASDAQ listed FinTech Futures Group, and the company recently announced that it was launching its crypto asset management and digital asset trading service in Dubai, in partnership with Chinese blockchain firm SOSOB, largely due to volatile regulatory environment in China.
"Our decision to setup in Dubai was based on a series of factors, but largely due to the hostile regulatory environment in China, which was becoming more and more regulated. In 2018, we had a marketing platform, and so a lot of initial ICOs that happened in China, were partly marketed by us. However, one Sunday, the Central Bank said they were stopping all ICOs in China, and that companies in the process of ICOs had to pay back their investors. Companies that had just did their ICOs were OK as they had the money, but others did not, and as you can imagine it created pandemonium, and was a very painful experience for a lot of crypto enterprises. In addition to this, all regulatory announcements are made on a Sunday in China, and need to be implemented on a Monday morning, so we opted to look elsewhere to setup", said Lind.
Lind added that they looked at going to Hong Kong to set up their exchange, but the political unrest combined with the likelihood that regulation will become stricter forced them to look elsewhere.
He confirmed that South Korea was also an option, and they had engaged in preliminary talks with the relevant authorities, but the regulatory framework was not clear, whilst locals were prohibited from promoting cryptocurrencies. That has now changed, and he believes more exchanges will move there. However, for Lind, it was the Emirates that was the most attractive option.
"For us cryptocurrency is a blockchain technology, and the government in Dubai is very progressive in terms of implementing blockchain in a series of different projects over the last few years. I think the UAE has a great opportunity when it comes to blockchain, green technology and cloud storage, because we believe that decentralised cloud storage will be the future in blockchain. At the minute, the technology is not fast enough to do that, but it will evolve very quickly, and we believe that in the next five years there will be a transaction for utilising blockchain. It is cleaner, it doesn't consume as much power and I think the positioning for the government here has the opportunity to become a world leader in this space", said Lind.
FTFT's SobitX platform has 1.2 million registered users globally, but Lind believes they can scale significantly as they begin to ramp up its operations, however, like a lot of industries, the cryptocurrency space is saturated with competitors, so what differentiates SoBitX from other crypto trading platforms?
"I think ultimately what makes us different is the fact that we are independent. Our platform is not dependent on any other crypto exchanges, or anything like that. If you trade with other companies then you go to their trading platform and they provide you with data and information and investment tips, but we believe that is not the right approach, we believe in a model that gives users greater transparency and autonomy", said Lind.
One other key component of SoBitX according to Lind, is that SoBitX is a one-stop shop in terms of data and information on all aspects of cryptocurrencies.
"We have 300 exchanges on our platform, and we collect all the data from those exchanges, which essentially enables our users to examine all the data from those exchanges on the one platform. As a crypto trader you have everything in one place, and we have key opinion leaders (KOLs) giving their tips on trades, and we have all the information you need regarding cryptocurrency on our platform".
He also added that the platform is tailored for everyone – and is not just designed for high-net worth individuals or global investors, in fact, it is very much the contrary, with beginners being the most prevalent demographic in terms users on the platform.
"We're the Bloomberg of data for cryptocurrency, and it's free, so you can sign up and start out as a beginner. You can't trade on our platform today, but we have something that we call So-Signal, that is a subscription form and when you utilise that we have 80% accuracy in trades. 70% of our users are beginners, and they are primarily based in Asia. In that market, they typically follow trades and KOLs that are experts. They opt not to take an independent approach to trading, and prefer to listen to someone else, and our platform allows them to access all the information they need regarding cryptocurrencies and trades", said Lind.
Lind believes that a key market differentiator for SoBitX will come when they launch a new feature based to their platform in October, and he believes that this will make them unique compared to other crypto trading asset managers
"I can't say we are unique in terms of using data, as lots of exchanges use data. However, I do think we are unique in the sense that we approach the market in a very different way, but also, we have a very exciting new product coming in October, which is based on aggregated trading. This means you will have one account and you can trade on any exchange globally, or several of them at the same time, and this will make us truly unique in comparison to our market rivals," said Lind.
With Lind at the helm, and with the environment in Dubai certainly 'friendly' towards cryptocurrencies and blockchain, the future looks bright for FTFT and its SoBitX platform.