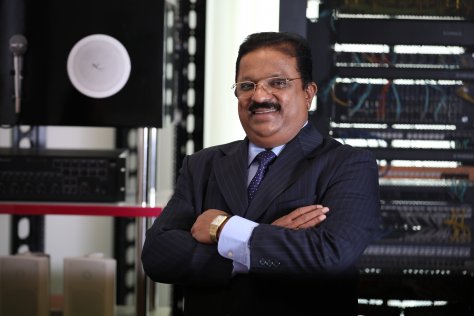 Building on its legacy as a player in the IT infrastructure market, Norden Communications ME is developing its presence in the surveillance market with its EyeNor range of products. General manager Joseph K John sits with Security Advisor ME and delves into the latest trends driving the physical security market.
As cities become smarter, organisations from both public and private sectors are increasingly looking for innovative ways to use technology to ensure public safety and security.
Video surveillance plays a key role in enabling smart and safe cities. According to the latest research report from Marketsandmarket, the video surveillance market is estimated to grow from $36.89 billion in 2018 to $68.34 billion by 2023. Cities have long looked to video surveillance for crime deterrence and public safety and with advancements in technologies such as the Internet of Things video systems offer advanced smart capabilities as well.
As a reputed brand in the structured cabling market, Norden Communication Middle East has dedicated its expertise in developing products that meet the end-to-end requirements of organisations in the telecommunications, industrial and utilities sectors.
The Middle East arm of UK-based Norden Communications has started its regional operations in 2008 with Dubai as the hub. Today, the company has a presence across all GCC countries as well as in Africa, India and South East Asia. "Norden strives to provide regional organisations with a diverse range of solutions they need amid the growing digital landscape," says Joseph K John, general manager, Norden Communication Middle East.
The company offers an array of products from copper and fibre connectivity solutions, industrial cables, telecommunication distribution and closets and NVS – public alarm systems.
With the rise of the Internet of Things, where a whole gamut of security, communications and networking solution will be integrated, smart cities are rapidly becoming a reality. Having seen this transformation, Norden found an opportunity to deliver products that it believes will further add value to the changing physical security environments – surveillance systems.
"IoT is helping create safer cities, homes, and businesses by enabling both private and public organisations to securely and remotely monitor facilities and public spaces in real-time with smart security and surveillance solutions," says John. "As a structured cabling manufacturer, we have extensive expertise on networking infrastructure, which is instrumental in developing surveillance technologies.
Over the last few years, the company has made significant investments in R&D to develop new product innovations that will enable seamless integration of physical security systems. "We believe we have the advantage to become a one-stop-shop for perimeter security," says John.
"Our diverse knowledge of the industry standards and international protocols on networking systems as well as copper and fibre optic solutions give us a competitive advantage in producing top-grade surveillance solutions," he adds.
"Basically, everything starts from the cable," he says. "It is the foundation of the physical layer from connectors to internal switchers to other components such as cameras. That's where our strength lies and that's why we believe we have an edge in the market.
In 2016, Norden has introduced its surveillance system product line – EyeNor, which includes Classic Series – IP System; Classic Series – Analogue System; Value Line Series – IP System; and Starlight and High-End series – IP based system – at Intersec Dubai.
Demands for CCTV surveillance are increasingly evolving as organisations today are opting for IP video surveillance because of the various benefits offered by IP networks, according to John. "The shift from analogue to IP has led organisations to spend on technologies that add scalable security surveillance solutions to their physical security and we are well-equipped to assist them in that transition. Niche technologies such as thermal cameras also continue to see a demand in the market, with additional features that can stand up to the harsh weather conditions."
Looking ahead, John believes that 5G will have the biggest impact on future surveillance technologies.
"5G is all about faster speeds," he explains. "It will be instrumental in boosting the bandwidth that supports the transmission of high-quality videos. It will also enable real-time video surveillance and analytics.
"In addition, we can expect artificial intelligence and machine learning technologies to be more integrated into surveillance products and solutions. AI and machine learning can dramatically increase the effectiveness and accelerate the analysis of the images from video surveillance cameras in order to recognise humans, vehicles or objects."
To demonstrate its commitment to the region and showcase its latest innovations, Norden will be taking part at this year's Intersec, which will take place on 20th-22nd January in Dubai.
At the show, Norden will place the spotlight on a range of its offerings including the EyeNor Dual Sensor Temperature Detection Bullet Camera with thermal imaging capabilities; EyeNor Multi-Sensor Panoramic IR IP camera, which supports 180-degree panoramic view; and the EyeNor IP Bullet Camera with Smart Analytics features.
In the coming years, John says Norden will continue to make significant investments in innovating its products by keeping abreast with the latest technologies in the market. "We may not be as big as the 'heavyweights' in the market but our eyes are always on the horizon and we make sure that we are privy to the trends that will disrupt the market," he says.