CNME Editor Mark Forker secured an exclusive interview with Emirates NBD CIO, Miguel Rio-Tinto, to find out how the company has positioned itself as a transformative pioneer in the banking ecosystem across the Middle East, powered by Dell Technologies, how the role of the CIO has changed in the new digital economy – and what differentiates Emirates NBD from other traditional banks.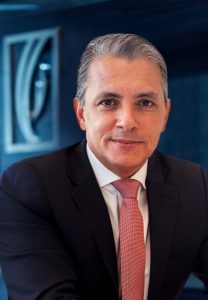 Emirates NBD is seen by many across the region for being a pioneer in terms of adopting emerging and disruptive new technologies that are designed to enhance the services they provide and transform their day-to-day operations.
According to Rio-Tinto, that desire to continually innovate is embedded into the culture of Emirates NBD and added that there was a general acceptance from the hierarchy that they needed to take it to a new level.
"Emirates NBD has always had a reputation for being innovative from the standpoint of the products and services that it makes available to its customers both in the UAE and abroad, because we have a large presence in Egypt, KSA and now Turkey. However, there was an acknowledgement from the bank that as part of our efforts to accelerate digitalisation, we really had to take it to a different level", said Rio-Tinto.
The dynamic CIO joined Emirates NBD in 2017 and has been a major catalyst in spearheading the technological transformation that the bank has undergone in that time. He highlighted how significant investments into new technologies equipped Emirates NBD with the tools and solutions required to overhaul their existing infrastructure and embrace digitalisation.
"We started looking at new disruptive technologies that were being deployed in the IT ecosystem, and started to ask ourselves how do we align our strategy with the best practices that are out there? In relation to our technology transformation Emirates NBD decided to invest 1 billion dirhams into new technologies to really allow ourselves to collaborate with the best-in-breed cloud natives that are out there", said Rio-Tinto.
We know that cloud is the future, and that is the underlying platform that will fuel innovation in the digital economy, but as the Emirates NBD CIO points out they wanted to be cloud-native to be enable them to automate their services and this is where the collaboration with Dell Technologies was critical to realise success.
"The best-in-breed enterprises use a cloud-native stack, they don't use a traditional monolithic, or legacy type of infrastructure. They are completely cloud-native, which essentially means that managing things like infrastructure and physical resources that are de-coupled from the logical resources enables the automated deployment of software and that's what we wanted to achieve", said Rio-Tinto.
Also, in relation to technology transformation Rio-Tinto highlighted that it is not all about infrastructure, and that application architecture is critical.
"This was also an area that we significantly invested in to extend APIs and allow them to be integrated with partners and ecosystems. We wanted to become agile and bring in a different way of working and change the business interface, so we had IT embedded into our teams", said Rio-Tinto.
Emirates NBD reinforced its standing as being a pioneer by becoming the first bank in the UAE to have a lifestyle 'digital-only' bank in the form of Liv., which was targeted specifically for millennials, and said its success prompted the bank to create something similar for SMEs.
"Liv. is a mobile only value proposition. We have been able to onboard customers at anytime in two minutes without ever speaking to the customer and it was all done exclusively via the mobile. We were inspired by the success of Liv. and that triggered us to replicate this type of banking experience for SMEs in the region. We know that one of the key pain points for SMEs has been opening an account with a bank, so we asked ourselves how can we bring that onboarding experience provided for millennials to our SME community? We launched E20. and that has allowed SMEs to onboard in just ten minutes, which again is another wonderful illustration of our innovation", said Rio Tinto.
Over the last few years major industry verticals have undergone seismic change, but so too has the role of the CIO in the new digital economy, and Rio-Tinto explains that whilst many aspects of his job are the same as they were a decade ago.
"That element of being technology-focused and having the ability to take the right decisions regarding the technology strategies you implement are still important, and that was at the core of what we were doing 10-15 years ago. However, you do have to be very focused in relation to following where the technology is going, so you can steer a bank like Emirates NBD in the right direction because it needs to be running efficiently every day, but at the same time you need to explore new technologies that are designed to help us enhance the products and services we provide", said Rio-Tinto.
However, he did concede that the role of the CIO has evolved, and there are many new facets of the job that he has had to grapple with, and one of them has been acquiring and retaining IT talent.
"I have been in this business for a very long time, but my role has changed substantially. In the past you had the business functions and then the IT delivery. The speed at which you must innovate with technologies now is so fast that you really need to blend business and IT together. One other aspect of my job, which has evolved massively is in the fight for talent in IT. IT is a core competence, and previously we didn't have the engineering functions inhouse, it was outsourced. We onboarded a lot of talent recently, but the fight for talent is huge right now, so my people are continually being poached every single day, because so many industries are undergoing digital transformation and they need talent. 60% of my role is now devoted to managing people and teams to attract, retain and motivate them", said Rio-Tinto.
Rio-Tinto also highlighted the key role played in its transformation by its technology partner Dell Technologies, who he believes has equipped them with the solutions and infrastructure they needed to drive their digital agenda to the next level and address their customer needs.
"Dell Technologies solutions enables Emirates NBD to drive operational efficiencies through advanced digital infrastructure to meet evolving customer and market needs. With these solutions, Emirates NBD is modernising its legacy infrastructure and resetting the bar for driving new levels of performance, efficiency, security and consolidation. This digital foundation delivers best-in-class digital banking services, while also providing a more agile, secure and scalable infrastructure that will allow Emirates NBD to bring products and services to market faster", said Rio-Tinto.
In terms of what differentiates Emirates NBD from its rivals, Rio-Tinto has already highlighted the innovation that is embedded in the fabric of the company, but he knows that a critical component is customer experience and that the digital experiences they are now offering to their customers is distinguishing themselves from other traditional banks.
"For you to provide the ultimate digital experience for your customers you need to have several ingredients. If you have implemented cloud-native technology then that's great, but it's not enough. It must be straight-through-processing, nobody wants to receive their IBAN in 48 hours, they want it now, so everything must be STP. We are continuing on this journey of success enabled by technology innovation and everybody at the company understands that the experience for the customer has to be seamless and immediate. That is what we are striving to achieve, and we believe that this approach is what differentiates us from other traditional players", concluded Rio-Tinto.