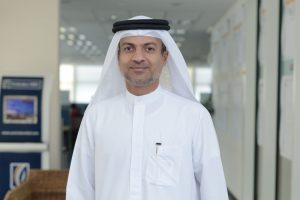 According to the World Economic Forum, approximately half of the GCC's population falls into the under-25 bracket, and by 2050, 54 percent are expected to be below 36 years of age. In a bid to remain one step ahead of incessant competition and consistently place its customers as its central focus, Emirates NBD has capitalised on this generation Y overhaul, and recently launched the UAE's first millennial-focused digital banking app.
"Emirates NBD has invested a lot into digital innovations, but we realised that in order for this concept to work, we needed to step away from our traditional approach," says Ali Sajwani, Group CIO, Emirates NBD. "We did a survey to identify what millennials wanted from a bank, and a recurring theme was that they didn't want to have to attend a branch to access its services. Today, you no longer have to go to your electricity authority to pay a subscription; it's a utility service that has moved completely online. This is what the younger generation now expect from their banking experience."
Liv. is a mobile-only application that aims to combine both lifestyle and banking capabilities into one unified solution. Upon opening the app, users are presented with a multi-coloured scheme, which is aimed to appeal to younger users and retract from the corporate and official colours associated with the firm's traditional consumer banking app. Users have the option to register for Liv. using their social media login or email address, before they have to upload images of their Emirates ID and create a password of their choice.
"Upon registering your account with Liv., you will be asked a few questions to gauge your interests," Sajwani says. "Using the smart artificial intelligence capabilities embedded in the app, it can then recommend certain promotional offers – suited to you – that are available to Liv. Users."
The app, which was created by a team of millennials, has adopted colloquial language in its communications with customers in an attempt to make it more suited to its younger target audience. Users can subscribe to the service and take advantage of the lifestyle offers from partners such as Burger King, Costa Coffee and TGI Fridays before they opt for the Liv. bank account. The Liv. account, although still an Emirates NBD account, is separate from customers' existing current accounts with the bank, and those who subscribe to the bank account will receive a Liv. debit card.
In this era of constant digital transformation within the banking sector, Sajwani says that while there is widespread competition in the market, his main focus remains on meeting customer needs through consistently improving the bank's products. "Our aim for Liv. is to release app updates much more frequently than we do currently with our conventional apps," he says. "Users look forward to updates, but I think there is more value in seeing smaller and more frequent updates, rather than waiting six months before releasing an update that completely changes everything within the app. We are aiming to release an update for Liv. once a month, and we will look to increase this further in 2018."
In alignment with Emirates NBD's aim to digitise its products to meet increasingly high customer demands, the bank has recently opened a 'Branch of the Future,' in Dubai's Emirates Towers. Both Liv. and the Branch of the Future align with last year's announcement for Emirates NBD to invest AED 500 million in digital transformation initiatives over the next three years. "We are now in the process of further identifying the right initiatives and use cases to spend the investment," says Sajwani. "Within the digital journey, we plan to re-architect our systems to become futuristic in the way we approach co-innovations with peers and clients."
The new branch, meanwhile, showcases five digital banking methods at a time, and Sajwani says that the bank has committed to refreshing these ideas up to twice a year to demonstrate to customers how they envisage the future development of banking.
"Ideas that are futuristic today, will become present tomorrow," says Sajwani. "The mechanism feeding this Branch of the Future comes from our Future Lab, which is a research development platform currently based in our technology department at Emirates NBD's IT centre in Al Barsha. Here, we encourage our internal users and technology partners to co-innovate with ourselves on new ideas, and then present them either directly to end users in an offering, or if they are too futuristic for the time being, we will present them at the Branch of the Future."
He continues, "There was also notable significance to launching this branch in Emirates Towers, because the government has selected this location to run its Future Accelerator Programme. This is hosted on the ground floor of the tower, just one floor below our branch. The government is also setting up the Museum of the Future just outside Emirates Towers, so it is a very innovative and consistently changing environment to be a part of."
While the question mark surrounding the long-term need for physical branches persists, Sajwani believes that there is still an enduring demand for their presence. "We're focusing on providing customers with alternative channels – via our digital offerings or call centres – to deal with tasks such as depositing cash or cheques, so that there isn't a need for them to make the journey to the branch," he says. "But there is absolutely still a need for customers to come in for face-to-face conversations with an adviser to get a better understanding of our offerings or discuss a major financial decision. Even if we can provide these services through our chat features online, we are still encouraging our customers to come in and talk to our staff on these occasions. This means that the branches will become more focused on housing advisory roles for making strategic decisions."