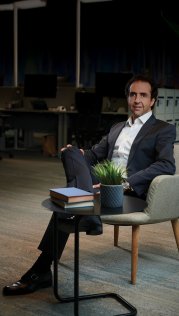 CNME Editor Mark Forker spoke to the new General Manager of Microsoft UAE, Naim Yazbeck, to learn more about the company's take on the Metaverse, the role Microsoft Cloud has played in driving new innovation, entrepreneurship and economic growth in the UAE – and its continued commitment to sustainability.
When I spoke with the Microsoft UAE team last year, sustainability was a key theme that featured prominently throughout the discussion. We know that Microsoft is a key partner for the UAE in terms of helping the nation achieve its national agenda objectives and outcomes. However, can you tell us about your sustainability mission – and how you're helping the UAE address issues over talent acquisition and skills shortages in the IT sector?
When it comes to sustainability, Microsoft works diligently to minimise the environmental impacts of our operations while maximising the positive impacts of our technology.
We also strive to extend those benefits across our corporate boundaries and out to the communities we serve. We are proud to be leaders in the battle to reduce carbon footprint. Having been carbon neutral since 2012, we have committed to being carbon negative by 2030.
And by 2050, we will have removed from the environment an equivalent amount of all the carbon the company has emitted since its founding in 1975.
Our strategy involves shifting to 100% renewable energy, extending our carbon fee to our supply and value chains, and investing in new carbon-reduction and removal technology by way of a US$1 billion Climate Innovation Fund.
We have sought to lead on decarbonisation by being transparent in our reporting. And through the Carbon Call initiative, we have tried to standardise this reporting for others to help them reach their own carbon goals. (Carbon Call is a collective of organisations across multiple industries that co-operates on access to underlying data and science.)
Microsoft is investing US$50 million in AI for Earth that will accelerate innovation by putting AI in the hands of those working to directly address sustainability challenges.
Such efforts align closely with the UAE National Agenda and UAE Vision 2021, which list sustainability as central pillars.
However, where we as Microsoft have the biggest potential to align ourselves with the UAE's visionary leadership and the country's sustainability goal is where we work with and through partners and customers. True to our mission, to 'empower every person and every organisation on the planet to achieve more,' we are partnering with many organisations in the UAE to help them advance their own zero carbon initiatives.
Through Microsoft Cloud for Sustainability and the Emissions Impact Dashboards for Azure and Microsoft 365, our customers get access to advanced tools that allow them to manage their businesses in eco-friendly ways.
Enova, a joint venture between Dubai's Majid Al Futtaim and Abu Dhabi's Veolia Environmental Services, leveraged the power of the intelligent Microsoft Cloud to save 320 million kWh of energy, 5 million cubic metres of water, and 210,000 metric tons of carbon dioxide emissions. In June last year, DEWA used Microsoft technologies to implement digital-twins, IoT, advanced cybersecurity, AI, and smart-building management solutions at its new headquarters, Al Shera'a, set to be the tallest, largest, and smartest government Net-Zero Energy Building in the world.
And throughout these efforts, we have strived to work on skilling initiatives such as the Microsoft Cloud Society, and centres of excellence like the Energy Core to ensure the talent is there to build a sustainable future.
The decision by Microsoft to launch their data centres in June 2019 was a seismic moment for the UAE. Many business leaders have said it has served as the foundation and springboard to huge digital transformation across the country. It is now 3 years since you opened your datacentres in Dubai and Abu Dhabi, so can you tell us how you have expanded these services, and can you provide us with some tangible examples of how you have really empowered organisations to achieve more? 
Microsoft is proud of our cloud ecosystem's capacity to create jobs, accelerate innovation and entrepreneurship, and foment economic growth across the Middle East.
According to a recent IDC study Microsoft Cloud will generate almost US$40 billion over four years and generate close to 100,000 jobs.
IDC's "Microsoft Cloud Dividend Snapshot" report for the United Arab Emirates shows that between now and 2026, the four-year accumulated total for new revenue from the Microsoft Cloud will be US$39 billion, with 16.6% accumulated benefit emanating from its cloud data centre regions in Abu Dhabi and Dubai. This revenue will be generated by the Microsoft Cloud ecosystem, made up of Microsoft, its partners, and its cloud customers.
Microsoft and its partner ecosystem, in support of growing local businesses, will spend about US$3.4 billion in the UAE data centre regions for services and products in local economies. And the new regions will also help eliminate some of the barriers to cloud adoption within the region. The snapshot report also shows how benefits accruing to partners will continue to rise. Microsoft partners in 2023 can expect to make US$6.40 for every dollar generated by Microsoft through its UAE cloud locations. By 2026, this figure is expected to be US$8.49.
Microsoft, its partners, and its customers will add 97,150 jobs to the UAE economy, either through direct employment or through the indirect generation of jobs in other organisations. This will include an estimated 29,430 new skilled IT jobs, highlighting the ongoing need for collaboration between public and private entities on skilling programmes to ensure that qualified professionals are on hand to assume these roles.
The Microsoft Cloud has also been a significant boon to entrepreneurship. Microsoft for Startups MEA has laid the groundwork for business growth through a series of initiatives.
One example is a partnership with Abu Dhabi Investment Office on the GrowthX Accelerator programme, which bridges the gap between corporates and tech start-ups through mentoring, demonstration days, and networking opportunities.
Another example is Highway to 100 Unicorns, a virtual-conference series that connects entrepreneurs to industry experts to help them scale their enterprises. Through the trusted, versatile Microsoft Cloud, we continued our skilling efforts for the region's youth, and furthered our upskilling and reskilling initiatives for professionals.
The Microsoft Cloud Society has trained more than 300,000 IT professionals across the Middle East and Africa, and during the pandemic, as part of a global programme, we enabled more than a quarter million people in the UAE to acquire digital skills.
In three years of operations, our Abu Dhabi and Dubai facilities have empowered organisations of varying industries and scales to accelerate their digital transformation.
Those entities include Dubai Airports, DP World, Mashreq Bank, Emaar, Abu Dhabi's Department of Culture and Tourism, Dnata Travel Group, GEMS Education, and e&.
Etihad Aviation Group transformed its finance operations using Microsoft AI and modernised its payment-inspection process using Microsoft Cognitive Services. And Zand, the first digital bank in the UAE to provide both retail and corporate services, used Microsoft Azure to reimagine the secure customer and employee experience.
Our UAE cloud services adhere to Microsoft's trusted cloud principles of security, privacy, compliance, and transparency, allowing organisations to deliver engaging customer experiences while living up to their data residency, security, and local certification obligations.
Enterprise-grade performance and the robust policies, controls, and systems needed to keep your data safe are all there in the Microsoft Cloud. Also present are the means to rapidly assess, prototype and adopt the latest technologies, from AI and predictive analytics to the Internet of Things.
The Metaverse has been dubbed as the next revolution of the internet. We have already seen Microsoft make significant investments in that space, such as its acquisition of Activision Blizzard. Can you outline to our readers how you plan on helping companies and industry verticals benefit from the Metaverse, and other mixed reality technologies? 
The Metaverse is the next step in the evolution of the Internet, and as with many other technology developments, the UAE is leading the way.
Dubai has launched its very own Metaverse Strategy aimed at positioning the emirate as one of the world's top 10 metaverse economies and a hub for the global community.
Some 1,000 blockchain and metaverse companies are envisioned, along with 40,000 virtual jobs by 2030, all of which is expected to add up to US$4 billion to the emirate's GDP by 2030. The Metaverse has many potential applications across social, commercial, and industrial use cases.
Microsoft's Metaverse vision is based around an open, trust-centric platform that prioritises identity security and privacy and ensures nobody is left behind.
Instead of "One Metaverse to Rule Them All", we must strive for a Metaverse of Metaverses, where identities and content easily flow between experiences, regardless of platform.
We recently launched HoloLens 2 in the UAE. We see this device as a crucial element of the Metaverse, with an abundance of applications, including in the Industrial Metaverse, where Kawasaki now uses HoloLens to build robots for its factory floors.
We developed AltspaceVR, the leading platform for live, mixed-reality experiences that allows artists, creators, businesses, and others to create virtual events more easily. Life-like avatars, spatial sound, and immersive environments deliver realistic sensations to participants.
We also expect to enable Metaverse experiences at scale through Dynamics 365 Connected Spaces, already in preview.
Connected Spaces models how people navigate and interact with almost any space – from shop floors to factory floors – and how they manage health and safety in hybrid-work environments.
Mesh for Microsoft Teams will combine communication channels to deliver a comprehensive human-presence connection that allows avatars to innovate and add value collaboratively through any device, and with no special equipment needed.
GITEX is the region's flagship IT and technology conference, and Microsoft's stand is always one that catches the eye as one of the greatest technology leaders in the world. Can you tell us what solutions, products and partnerships you'll be making at the event? 
Microsoft comes to GITEX Global 2022 as a Silver Sponsor and a DevSlam Founding Partner. DevSlam offers a series of workshops and hackathons for the region's digital experience developers.
Delegates will be able to visit the Microsoft Hub in our exhibition area, where we shall be treating them to a series of eye-opening and thought-provoking showcases.
Our industry focuses will be on smart cities, energy, utilities, and tourism, as well as on fintech, retail, education, and cybersecurity. At our stand, we shall be co-exhibiting with 26 partners housed in 13 back-to-back pods.
Perhaps our biggest GITEX 2022 focus will be our HoloLens 2 device that we recently launched in the UAE.
We see HoloLens as a key enabler for organisations' next-gen use cases and we predict it will play a significant role in a range of emerging use cases, from the Metaverse to digital twins.
HoloLens 2 enables organisations to empower workforces through Microsoft Dynamics 365 and more than 200 applications from our rich partner ecosystem, to address industry-specific use-cases.
HoloLens blends the physical and digital, allowing innovative solution designers to cross the divide between augmented reality and virtual reality.
Thousands of leading organisations around the world, in industries from manufacturing and construction to healthcare and education, are using HoloLens 2 and Azure mixed-reality services to cut costs, reduce energy consumption, and improve learning and retention, among a range of others.
Apart from our keynote address, our speaking and panel engagements include our thoughts on Web 3.0, where we will share Microsoft's vision of our shared future and how we can get there.
We shall be speaking at the Fintech Summit, exploring the many trends faced by start-ups in that space and how digital experiences have evolved, and will evolve, across the FSI sector.
We will address education stakeholders on the future of the sector and how distance learning will continue to take shape in the wake of the many changes we have seen over the past two years.
We will lay out our position on the threat landscape and the implications of the multi-cloud reality for issues such as identity, data protection, and zero trust in cybersecurity.
We will attend AI Everything to explain the extant trends that are driving culture changes across the region in preparation for low code, no code, and the integration of smart solutions. And we will talk at DevSlam on how we drive efficiencies, security, and collaboration in development pipelines.
What other nascent technologies in addition to the Metaverse do you see driving new innovation across the Middle East in 2023? 
If we reserve our projections for the technologies that will drive innovation in the region, we must look to those that are already viable.
One of the most recent is 5G. We see 5G as the foundation of a significant number of new use cases. Many IoT projects were waiting for communications technology to take this leap. The low latency and reliability of 5G makes it the ideal bedrock for an entire generation of new use cases where remote connectivity and connection speed are determining factors for viability.
This has implications for automated maintenance of pipelines, mining, agriculture, healthcare, and many, many others. It may also accelerate drone adoption for several use cases, such as retail and logistics, agricultural surveys, and public safety.
Many technologies already in service will continue to be deployed in new areas as use cases emerge. For example, there is a growing need for cybersecurity in the Metaverse if adoption is to be sustained.
Perhaps more important than emerging tech is the emerging implications of its use and how we, as a society, rise to that challenge.
Technologies such as the Metaverse and AI have the potential to do great good, but if we do not take due care in their implementation, we could propagate undesirable results that could have implications for everything from economic equality to health and safety.
Just as it is our privilege to reap the many rewards of technology, so is it our obligation to ensure those benefits accrue evenly across the fabric of society, rather than being filtered towards a select few.
In terms of brand-new technologies, quantum computing, while still in development, deserves a mention.
While many different points of view can be found on how far we are from a viable quantum computer, some speculate that the only problems that remain are ones of scalability.
This revolution has wide-ranging latency implications for everything from AI to cybersecurity (encryption in particular).