Alaa Bawab, Vice President for Enterprise Networking Business, Huawei Middle East, outlines the need for greater bandwidth and data speed in order to facilitate and meet the increased demand for OTT content.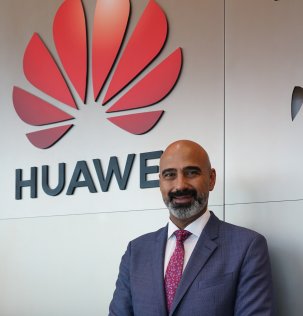 The world is witnessing a surge in the consumption of over-the-top (OTT) content—video and other media content delivered by the internet. This consumption is driven by the increased affordability and availability of the internet worldwide, as well as consumer-friendly options such as personalisation and on-demand viewing. Improving network connectivity has also enabled transferring large-sized videos and images to become more common.
All of this is only possible with fast data transfer speeds. When thousands of people are in one place, such as a concert or a sporting event, and they are recording, taking photos, or videos, the network infrastructure will be under substantial pressure.
Installing networks at large venues with public access to the internet is a complex process as operating and maintaining network systems is difficult and places a certain amount of pressure on the venue's technical team. Venues need to ensure their Wi-Fi networks are able to provide full wireless coverage that is secure and allows for continuous network use.
In a consumer environment, where users demand a seamless digital experience and the ability to share high-quality content in real-time, network providers must ensure that thousands of people can access a network simultaneously and enjoy a similar user experience.
The pandemic has also played a significant role in accelerating the adoption of digital channels. Organisations have continued to prioritise digital transformation to enhance connectivity and accessibility in public areas.
One such example in the region is the Dubai International Financial Centre (DIFC). It is one of the world's leading financial centers and home to the largest, most developed Financial Technology (FinTech) ecosystem in the Middle East, Africa, and South Asia (MEASA) region. DIFC realised the importance of digitalisation many years ago, before COVID-19. A core component of the transformation was launching next-generation Wi-Fi 6 in partnership with Huawei, offering the fastest Wireless Local Area Network (WLAN) technology to date.
Wi-Fi 6 delivers large bandwidth capacity, high concurrency, and low latency. Its deployment allows a new and improved user experience in dense deployment scenarios compared to that of previous Wi-Fi generations. A Wi-Fi 6 network offers four times the system capacity of Wi-Fi 5, four times the concurrent access, and 60% lower transmission latency. Wi-Fi 6 enables ultra-high bandwidth 4K and Ultra-High Definition (UHD) video conferencing, as well as fast, seamless roaming, and ultra-low 10 ms latency for quick Virtual Reality (VR) response.
The pandemic has indeed demonstrated that businesses can no longer be confined only to offices — Wi-Fi 6 empowers users with always-on, anywhere-accessible, reliable Wi-Fi connectivity. It is essential that businesses remain connected to their customers and partners at all times, anywhere and everywhere.
Accessibility, transport, and infrastructure have proven to be a great strength of DIFC. With access to Wi-Fi 6, both residents and visitors are empowered with the ability to access government websites and make online transactions through their Wi-Fi-enabled devices in public areas within DIFC.
Mobility at this level drives productivity and efficiency, creating more convenience for users by allowing them to access essential services at any time for free, and in turn, making businesses truly mobile.
As Wi-Fi networks in public venues are particularly susceptible to attacks, it is imperative that organisations also have adequate network security checks in place to ensure there would be no data breaches. Wi-Fi 6 enhances operational efficiency, improves network security, and reduces operating costs.
In addition to the key network characteristics essential to deliver the intelligent connectivity platform, such as robust connectivity, user experience, and O&M tools based on data analytics and AI capabilities to resolve issues in a timely manner, centralised Cloud-based management plays a key role.
It is a combination of processes entailing the use of software, applications, and services in the cloud. With remote cloud management, it is easier to achieve optimal operations and maintenance as project delivery time at venues can be significantly reduced. Additionally, the time required for fault diagnosis can be reduced from four hours to just a few minutes. This speed of service is facilitated by Huawei's cloud-based management platform CloudCampus, and CampusInsight.
As DIFC looks to triple in size by 2024, the launch of Huawei's AirEngine Wi-Fi 6 will help the center meet its growing connectivity requirements, ensuring its community has access to the latest technology and network, with the capacity to support innovative smart services.
DIFC's commitment to digital adoption will allow it to expand and diversify, supporting the latest phase of an ambitious expansion project that will back Dubai's mission to become a major economic force in the Middle East.