Nikita Kandath, META Regional Marketing Specialist Enterprise, Commscope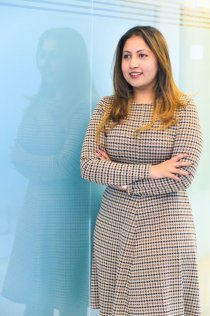 Throughout the COVID-19 pandemic, the importance of having a strong and reliable network has become more and more evident. Can you explain how CommScope's solution has helped keep customers connected in the current challenging times?
CommScope was built for times like these, always pushing the boundaries of technology to create the world's most advanced networks. Never have those networks been so tested — and so critical to global connectivity. Some of the key actions we took as a result of the pandemic and that we are proud of included:
Working with organisations and communities around the world to provide much needed communications equipment and expertise to support critical industries that are serving our communities.
Our teams across the globe reached out to local organisations to get students connected for distance learning and to offer relief to industries that are being hit hard at this time.
Hospitals: In China, Europe and the U.S., CommScope has donated product and expedited delivery of in-building wireless systems as new hospitals were built to support COVID-19 patients..
Pop-up Wi-Fi centres: In conjunction with the Information Technology Disaster Resource Centre (ITDRC), CommScope donated outdoor wireless access points and switches, free support for a year, and cash to assist with pop-up centres for emergency healthcare delivery and homework hot spots.
Distance learning support: CommScope is continually working with school districts, partners and service providers to extend coverage outdoors and equip school buses with outdoor access points with LTE backhaul, and PoE switching. The buses can then be parked in strategic locations to enable students to connect to the internet to complete schoolwork.
Face shields: 3D laser printers are being used to create much-needed face shields for healthcare workers. In addition, CommScope global teams are rounding up safety glasses and masks to donate to local healthcare facilities.
Monetary donations: CommScope made financial donations to several organisations including American Red Cross, and the Goa State COVID-19 Relief Account in India, ITDRC and United Way Chihuahua, Mexico.
Free training: CommScope has offered more than 50 courses and 150 hours of training in the CommScope Infrastructure Academy for free to customers and partners to increase product and technology knowledge with no financial burden.
What are your key strategic focus areas for the current year?
Moving into 2021, we can only expect more organisations to implement technologies that ensure increased operational resilience to deliver long-term efficiencies. Many organisations that were once wary of the complexity and the time associated with large-scale digital transformation projects have prioritised what will deliver for their employees and customers in the required moment. With flexibility and scalability becoming a key requirement for most, cloud deployments have been seen as a clear enabler.
Remote and hybrid models of working will certainly remain in place, with many favouring a more decentralised approach to living and working. The cloud will therefore continue to play a crucial role as networks connect employees and customers, delivering instant access to data and information at the touch of a button, while simplifying the management process for already stretched IT teams.
The training needs of the channel community have also increased drastically since the onset of the pandemic. How has CommScope been making sure that the partner community remains trained and up to date on the latest technologies while working in the virtual world?
CommScope University offered several free e-learning, accreditation and classroom trainings to our Ruckus customers and partners in the middle of the lockdown period to help them demonstrate proficiency designing, implementing, managing, and supporting Ruckus solutions. Besides this, our team of technical experts are continually running training workshops in webinar formats to our partner organisation to keep them interested in our technology during these trying times. Wi-Fi and connectivity is needed now more that ever, hence our team has focused their energies on stressing on the benefits of becoming a CommScope partner:
State-of-the-art solutions that can keep you ahead of the technology curve
Clear upgrade paths that can minimise CapEx and OpEx
More uptime and increased network reliability
Global consistency of service and fast, certified installations
CommScope warranty protection
Greater network security, stability and efficiency for confident peace of mind
Due to the disruptions seen primarily at the start of the pandemic, there  has been a growing understanding of having solutions in place that offer business resiliency. What are the CommScope solutions that customers can rely upon as they build their resilience and contingency plans for the future?
Reliable Wi-Fi (indoor & outdoor): Our Wi-Fi Solution allows customers to enjoy strong, reliable, consistent high-speed Wi-Fi access using typically 30% fewer APs than other networks require, plus the analytical insight to manage the Wi-Fi network efficiently. Add smart poles for concealed connectivity and smart lighting.
IoT converged network architecture: Our open platform allows many solutions with one adaptable network, one gateway, one rules engine, one dashboard – you set the rules then see the results. Our customers can unlock the cost-saving efficiency and campus security by connecting OT & IT systems, such as connected entry, CCTV, HVAC and lighting controls.
Scalable switching: Ruckus Campus Fabric allows up to 1,800 ports managed under a single IP address, with long distance stacking between closets, floors or buildings – up to 10 km. ICX switches' high PoE budgets and support for PoE+ and PoH will power the new generations of wireless APs, surveillance cameras, video displays and other devices for years to come.
Comprehensive security: CommScope addresses campus information security from cable to cloud. We offer secure client onboarding with identity, secure IoT end-to-end, WPA3 for Wi-Fi, private LTE with SIMs for secure comms, and secure fiber and copper solutions for physical network security.
Analytics for success: RUCKUS Analytics provide proactive network health checks, and insights to resolve issues before students notice. Service assurance allows testing of connections before deployments are signed-off, while resources are on-site.
What according to you are the next growth areas in the network infrastructure segment for the resellers?
We've all seen that COVID-19 has accelerated digital transformation in organisations that quickly needed to shift business models to virtual ways of working. Yet, it's not just public cloud deployments that will have seen an uplift during this difficult time.
2021 will see a seismic change in how we work and live. We're all in the process of adaptation and futureproofing. The network has never played a more fundamental role as we adapt to meet changing requirements
As workers have been asked to socially distance, or stay at home, organisations reliant on the production lines – such as those in manufacturing – have been forced to fast-track investments into IoT devices to maintain margins. Education has seen a similar shift. From home-schooling in the initial lockdowns, we've seen schools and universities adopt hybrid models; investing in campus connectivity for those joining lectures remotely or requiring access to digital materials in real-time during classes.
Today's networks are diverse, sprawling and complex and having to support more data-rich applications, devices and users than ever before. And it is this which is making network management much more of a challenge. Consequently, many IT teams are struggling to achieve visibility, speedy troubleshooting and cost-efficient management of their multi-gig network.