Hani Nofal, vice president, Intelligent Network Solutions, Security and Mobility, GBM, discusses why his company is perfectly positioned to tackle the cybersecurity challenges facing the regional enterprises.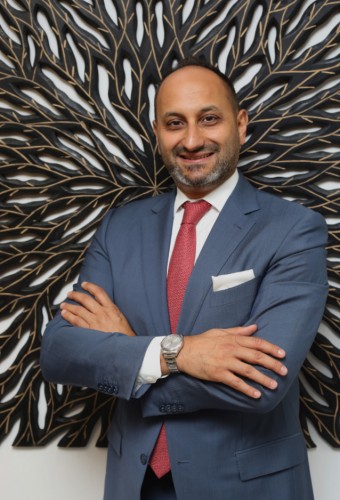 What is GBM's expertise in security domain?
Security was the fastest growing business for GBM last year, and when we made the plans for 2017, it is still by far the business that has the highest growth expectations. Mind you, we go deep into security by the virtue of strategic partnerships we have with the likes of IBM, Cisco, F5 Networks and Blue Coat. We have been recognised by all these vendors for our security domain expertise. Lately, there has been a market realisation that no single vendor can offer solutions that can help you keep pace with the rapidly evolving threat landscape. It's been true in our case as a solution provider as well; we have realised that we need to work with almost everyone to offer our customers best of breed security solutions.
What we have been trying to do is to bring some real security thought leadership to this region. You get a lot of international vendors landing in our region, which is great, but very few people bring the local flavour. We have been in the region for the last 27 years, so we thought we should be able to bring that local flavour and compare our region with global enterprises. This has helped us to reshape our approach, methodology and structure. Ensuing this, we created a dedicated security business unit in January last year. Before that, we had a security practice, and our solutions were scattered. We realised that we can't have a scattered approach, but need to tell an end-to-end security story to the market.
We have invested a lot to build real thought leadership with the help of market studies and surveys, which we do every year now. The results of this year's study will be unveiled at this year's GISEC, but I can give you heads up; things are changing, and we want to reflect that and what it means for enterprises in the region. Most of the enterprises in this part of the world are going through the digital transformation journey, and they want to find real talent. I am not talking about basic CCIEs here, but security experts who can become trusted advisors to their customers. The kind of conversations that we are having with our customers are around how to build the next wave of defence centres and manage threats. Because of our relationship with IBM, we are now embedding cognitive computing capabilities into our solutions. If you go by revenues, IBM and Cisco are the biggest security players in the world today, and we are the biggest partner for both in the region. Besides, we have invested heavily in building our own skills, services and consulting capabilities.
Do you have any plans to build a Security Operations Centre?
The quick answer is yes, but with a caveat. We have seen many international and players jumping into the fray and building SOCs, and all of them have burnt their fingers, so we were lucky that we didn't fall into this trap. There are two distinctive types of customers in the region. There are large enterprises that want on-premise capabilities when it comes to security – yes, they might pay and subscribe to threat feeds from vendors but they want their SOCs in house. Equally, they might look for experts who can run these SOCs for them and we have several such engagements. On the other hand, you can see SMEs that want to completely outsource their security operations but they would go with an IBM or Symantec.
The time to detect and response to security incidents has become more important than ever. Is that something you can help your customers with?
You are as secured as you can be at this moment, but you will never know what will happen tomorrow. If someone wants to hack you, they will eventually hack you, either from outside or inside. I don't think any solutions provider can commit and say that you'd never be breached. What we are bringing to the table is a 360-degree approach to security.  It is not just about people, database, network or website; it is about a fabric approach that will help to classify your priorities. The customers are not the same, and the one size fits all approach doesn't work in security. What is important for you is different from others and we help you design your security approach and defence mechanism to mitigate risks. We bring this expertise backed by the best resources and partnerships.
Do you see any synergy between your mobility and security businesses?
A lot, and it is one of the main reasons why we decided to partner with Apple. We believe iOS is the most secure operating system out there. Now, mobile devices have become a dominant attack vector, and all our customers who are digitising their businesses want to go mobile and interact with their customers through various devices. When it comes to mobility, there is hardly any discussion today that doesn't include MDM or integration with other security systems in the back-end. We do see lot of synergies between network, security and mobility, and it is not a coincidence that I oversee these businesses at GBM.