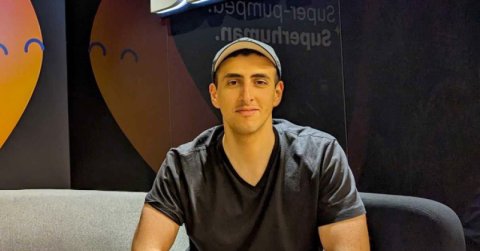 Daniel Shepherd, Deputy Editor, tahawultech.com spoke with Mohamed Khaled, CEO and Co-Founder, Hotdesk, at STEP 2023 to discuss the growth of their business and how they plan to further expand its brand presence.
Could you give our readers some background about how you built your co-working app and have successfully expanded its presence?
I started my career in consulting and for that job it was required to travel around the world. One late night it hit me that I had office access in 158 countries worldwide with a single pass. That was the eureka moment behind the concept of Hotdesk. When Hotdesk started it was primarily considered the 'air bnb' of offices, it was a simple aggregation plan where we connected co-working spaces all around the world with different brand in a single app where the users could book desks, meeting rooms and offices anytime, anywhere. We launched in September 2021 and grew from 15 bookings a month to over 10,000 bookings a month in 40 countries and 186 cities. When I think about how we grew, it ultimately comes down to solving a pain point, something that people need, and the timing is very relevant right now. The world went from work 1.o where everybody went to the office, work 2.0 where everybody worked at home to the current hybrid model.
How has Hotdesk adapted its model to cater to companies looking for a branded co-working space?
We started out with a consumer angle, we were looking at individuals and SMEs that wanted to book spaces on an app. Quickly we shifted to big enterprises as we suddenly got demands from Fortune 500 companies saying, "We have 200,000 people worldwide and everyday they're randomly split between the home, office and co-working. We have no idea where our people are and if our offices are actually being used, which floors do we keep?" So we actually adapted by by changing our technology to incorporate both internal booking spaces and those who wanted to book spaces outside of the regular office spaces. That is how we adapted on the customer front, in terms of the space front we grew beyond just being a marketplace for them to showcase their inventory. We built our flagship product Hotdesk OS, a one-stop-shop that co-working spaces can use for everything, be it invoicing, accounting, data analytics, calendars, etc. We give them this tool for free to better manage their space and allow them to enhance their unit economics with the aggregator apps. So it has become a wider selection of offerings then just bookings, we actually aim to help you automate your space as well.
What do think will happen to the co-working space once the metaverse starts to become a major factor?
We believe in something called the workspace spectrum that is comprised of four distinct elements. Office, home, co-working and the metaverse are these four pillars. It is likely that all four will continue to be used in different intensity levels, depending on many factors such as what industry you're in, which company, can your job be done remotely, how you feel on that specific day, the weather on that day, the traffic and so on. These are all factors that impact the workspace spectrum and the users choice. What we are going to be doing is integrate the metaverse into that mix. Hotdesk is no longer just a marketplace for co-working spaces, it allows you to be flexible and we aim to be the end-to-end technology powering hybrid work which includes the metaverse.
Could you talk a little about Hotdesk's relationship with its ESG (Environmental, social, and governance) goals and how this will impact co-working in general?
Everyday you make a decision about where you work (on the workspace spectrum) informed by the policy of the company you are a part of. Every choice made has a CO2 emission impact depending on travel distance to and from a location. In a simulation we ran for a client, if only 10% of their staff (20,000 people) booked co-working spaces near their homes rather than commuting two hours to the office you save 40,000 hours a day. This translates to 7,500 years of commute time per year for only 10% of your staff. The decisions you make on how you implement your hybrid work strategy, that Hotdesk enables you to do, can save tons of CO2 emissions however you don't want 7,500 years of your people on the couch. You should always strive for a mix of office and co-working. Ultimately the company has to make those decisions, and Hotdesk enables them to 'Get things done' which is our tagline.