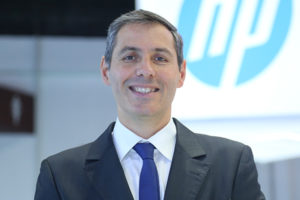 Over the last year, HP has refreshed its entire range of portfolio to include innovations in printing technologies.
At GITEX 2016, the company is highlighting its complete range of Laser printers and a new line of scanners, which are faster, competitively priced and cloud connected.
Stephane Rogier, Head of Printing, HP Middle East, says, "Another interesting technology that we are focusing on is HP Pagewide printing technology. This is unique in the market and brings cost and speed advantage for customers. We are observing a keen interest from customers visiting us at GITEX with this technology."
Additionally, HP is also educating and focusing on the security aspect in printers at the ICT trade show.
He says, "Security is really a focus at HP. Our printers are built with security in mind, the same way we have been designing our PCs. Unsecure printers can be a gateway for hackers to access an organisation's networks. HP has been at the forefront of security for printers with our unique innovative technologies."
Rogier adds, "GITEX is a fantastic platform for us. It offers us a great opportunity to reconnect with our existing customers and discover new ones."
Over the next year, partners can expect announcements from the company around its recent acquisition of Samsung's printing business. HP will also be announcing updates on its A3 portfolio, where it has added 16 new comprehensive printers, which has security built-in.