Huawei is reshaping fundamental theories, architecture and software to reduce carbon emissions and ensure a sustainable future for the ICT industry, MWC Barcelona 2022 – Lighting Up the Future heard.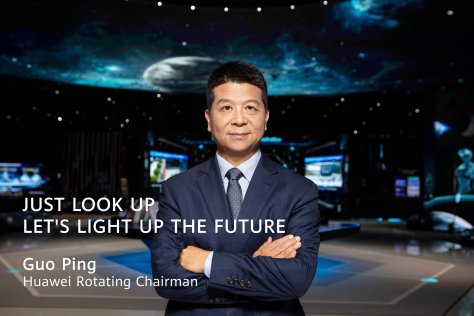 In a keynote address, Guo Ping, Rotating Chairman of Huawei, outlined the company's strategy on digitalisation and carbon neutrality, which he described as "two of the world's hottest topics".
Speaking on Day 2 of the conference, Mr Guo said that the ICT sector had the capability to help other industries save 10 times as much carbon as its own footprint.
More than half of the global economy will be digitalised this year, Mr Guo told delegates, but while demand for digital products and services has exceeded expectations, supply is "a different story".
The sector is approaching the limit of Shannon's theorem, which relates to the rate at which information can be sent over air.
"In computing, we are digging deeper into the von Neumann architecture, but have met severe bottlenecks. And so we must continue exploring new theories and architectures to achieve digital sustainability", Mr Guo said at the conference, which runs from February 28 to March 3.
One project evaluated by Huawei found the detailed monitoring of environmental data could create carbon emissions equivalent to 12.5% of today's total.
But while carbon emissions will be created by increased digitalisation, Mr Guo said ICT could help other industries achieve a reduction in carbon emissions 10 times its own footprint.
To achieve the desired reduction in carbon emissions and support the sector's long-term, sustainable development, Huawei is investing in foundational technologies and reshaping its technological paradigm in three areas: fundamental theories; architecture; and software.
A key area in fundamental theories is, said Mr Guo, channel capacity expansion, because channel capacity is approaching its upper limit.
"Huawei is exploring theories and technologies, like next-generation MIMO and wireless intelligence, which will get us ever closer to the Shannon Limit", he said, referring to the maximum rate of error-free data that theoretically can be transmitted over a channel.
"At the same time, we are studying new theories, like semantic communications. This will create new horizons for development within the communications industry".
A second key part of Huawei's approach is reshaping architecture, because before high-frequency, ultra-large-bandwidth and ultra-high-speed wireless communications can be achieved, many technical challenges must be overcome.
This involves exploring new technologies, such as integrating photonic and electronic technologies to solve, for example, the technical bottlenecks facing chips.
Meanwhile, an ultra-broadband technology, radio-over-fiber, is being used to reshape the architecture of small cells so that continued evolution can be achieved.
Traditional CPU-centered computing architectures are finding it hard to keep up with the developments in intelligence and big data. As a result, to support the development of intelligence, Huawei is designing peer-to-peer architectures that are able to utilise the full potential of graphics processing units (GPUs) and network processors (NPUs).
The last key branch of Huawei's strategy, Mr Guo told MWC Barcelona 2022, is rethinking the approach software.
Hardware development is slowing down, he said, at a time when intelligence is growing at an explosive rate and ramping up the need for computing capacity.
In response, the company is looking to "massively improve" software performance and refactor it to make it intelligence-centred.
Results have already been forthcoming, with doubling achieved with key indicators such as the number of wireless calls and scheduled users.
"We will also leverage HarmonyOS and EulerOS for more effective use of the computing power available in different types of hardware, and leverage our Mindspore framework to help scientists and engineers improve development efficiency", Mr Guo said.
"This intelligence-centred, full-stack software refactoring will definitely create all sorts of new opportunities".
There is no doubting Huawei's commitment, with the company having come second in the 2021 EU Industrial R&D Investment Scoreboard.
Mr Guo said that Huawei hoped to build a supply chain that was reliable and trustworthy by overcoming technological challenges.
Because improved user experience comes from software-hardware synergies, optimised algorithms for AHR Turbos are helping MetaAAUs consume less energy and improve performance.
In a similar vein, algorithm breakthroughs in holographic optics mean that optical cross-connects (OXCs) can achieve one-hop connections.
"This kind of sustained investment in foundational technologies will improve product competitiveness", Mr Guo told delegates.
When it comes to whole networks, Mr Guo said that for more than a decade, evolution has involved introducing the latest IT practices to CT, ranging from internet protocol (IP) to cloud and intelligence.
Huawei's complete suite of ICT capabilities means that the company has a head start in the development of future networks as they become intelligence-native.
Mr Guo also introduced Huawei's GUIDE business blueprint, which will provide support to digital network providers, as it lays out five key capabilities operators will need to develop to achieve business success in the coming decades, including expanding services, innovating efficiently, leveraging resources, competing on value, and contributing to society.
As it improves digital infrastructure capabilities, Huawei is paying attention to carbon emissions and has committed to making its products 2.7-times more energy efficient.
"Our 'more bits, less watts' philosophy is helping us make breakthroughs in areas like theories, materials and algorithms", Mr Guo said.
He also confirmed that Huawei was committed to international markets as it continued its globalisation strategy to help customers achieve business success.
"Will Huawei retreat from the international market? Our answer continues to be, 'No,' he said.