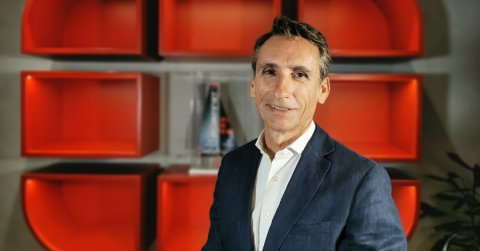 Alain Penel, Vice President, Middle East, Turkey & CIS, Fortinet, discusses their vision for the future and what technologies are needed to reshape the regional tech landscape. 
Can you outline to our readers how your company has harnessed cutting-edge technologies to transform how you conduct your day-to-day operations to deliver the 'experience' that your customers, end-users, and partners' demand in the experience economy?  
Fortinet has been at the forefront of cutting-edge technologies such as AI and machine learning for years. Incorporating AI into our Security Fabric, our response centres on an integrated approach, leveraging AI-driven technologies for proactive threat detection and response. Our solutions span from securing IoT devices to fortifying edge environments, to addressing the intricate interplay between cutting-edge innovation and security. 
Furthermore, while many of our competitors OEM their security intelligence from different vendors, FortiGuard Threat Intelligence has been built in-house, allowing us to apply AI consistently across different sources to expand the scope and scale of how and where it can be used. 
We also recently announced the new FortiGate 90G, our first next-generation firewall and secure SD-WAN appliance to run the new SP5 security processor ASIC. Fully integrated with our FortiGuard AI-Powered Security Services, it delivers secure compute ratings as much as 16 times greater than the average of our competitors' similarly priced models, while using over 90% less power. 
OpenAI and ChatGPT are all the rage, and these new AI integrations have been tipped to fundamentally reshape all major industries as we know them. What is your view on OpenAI, are you excited by the new opportunities that it will present, or do you think more regulation is needed to control its impact on society?  
We recognise the profound impact that AI can have on enhancing cybersecurity strategies. With the ever-evolving threat landscape, AI-powered technologies are helping us to not only predict and prevent cyberattacks, but also respond to them in real-time. 
New developments in AI such as generative engines show a lot of promise to various applications in cybersecurity. AI technologies can help organisations to significantly improve productivity, and we believe that they can be scaled to our large customer base in areas such as malware detection, threat hunting, event correlation and automation, as well as assisting networking design and troubleshooting. 
Our commitment to integrating AI into our Security Fabric empowers organisations to pre-emptively safeguard their networks, data, and critical assets, establishing a robust defence against even the most sophisticated cyber adversaries. 
There has been a swathe of digital and cloud transformation projects in the Middle East over the last 3-5 years. However, many have struggled with the demands of cloud transformation, especially legacy-heavy players. What are the key processes that enterprises need to adopt to ensure a successful transformation journey?  
As companies adopt digital innovation, the potential for a cyberattack grows. Despite this potential risk, retreating from digital transformation is simply not an option in today's modern business marketplace. Leaders who want to stay competitive need to understand and implement a variety of new concepts, from web application development to the use of digital tools to obtain and keep customers. 
Some key processes that enterprises should adopt to ensure a more successful transformation journey include using zero-trust access protocols, staying up to date on privacy laws, extending security to remote locations, and of course – prioritising cloud security. 
In your expert opinion, what do you view as the biggest problem facing enterprises in the IT and technology industry across the Middle East?  
As digital threats become more sophisticated and complex, the responsibilities of organisations have evolved in tandem. Yet, being able to retain and attract talent remains a key challenge facing organisations in the Middle East. 
To help businesses to make up for the local shortage of cybersecurity talent, CIOs must take responsibility to upskill their workforce. From embracing untapped talent pools to finding ways for professionals to build and advance core technical skills, there are several ways we can collectively shrink the current skills gap. For a start, whatever their role, all personnel should have cybersecurity awareness training as well as recurring updates on the latest risks and attack techniques. 
This supplement is titled Tech Vision, so with that in mind, what do you think the future holds for the IT and tech sector across the Middle East, what will be the key trends and technologies that will really champion change over the next 'digital decade'?  
In addition to the potential held by AI, we believe that there will be an increased link between cybersecurity and sustainability. Living in a digitised world where nearly all critical infrastructure and services are connected to the internet, cybersecurity has become a fundamental element to the sustainability of our society. 
Attacks such as ransomware and malware targeting organisations don't just cause severe damage to businesses, affecting financial viability, brand and reputation, and consumer trust; they also impact the customers and consumers who rely on those organisations. Given this potential impact, cybersecurity, alongside issues such as diversity and business ethics, should form part of every business's sustainability initiative, with the proper measures, processes, tools, and governance in place to ensure that the digital world we all rely on is safe and sustainable. 
We also expect to see increased convergence of IT and Operational Technology environments. Undertaking these changes safely and manging the new risks that come alongside them will be a very important focus for organisations in the coming months and years.