Echo Zhao, Product Manager at Hikvision, spoke to Anita Joseph, Editor, Reseller Middle East, to find out more about their cutting-edge products and solutions.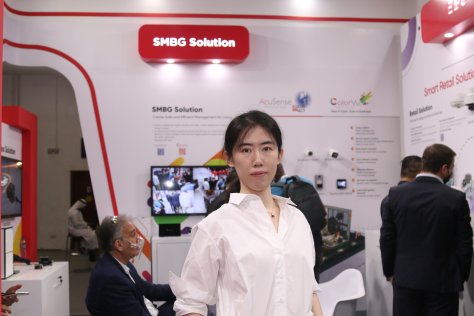 What are some of the trends in the video surveillance market?
There are some trends that are dominating the video surveillance market such as video resolution. This has upgraded from standard resolution to higher resolution. Such as 4mp, 5 mp etc. Also, the system itself is upgraded from Analog to IP and this change is happening here in the UAE and countries in the Middle East. The application of AI in video surveillance is also a growing trend. Currently, most of HIKVISION's cameras as well as recorders have smart functions and AI-embedded features. Now, CCTV is also moving away from providing just security, to be used in day-to-day applications as well. Businesses are using CCTVs to add value.
Another trend in this area is called VSaaS or Video Security-as-a-Service. VSaaS is the technology that hosts the hardware and software of video-based security systems in the cloud, so that users can access their IP cameras anywhere through any device and have the video footage at their fingertips.
Since there is no hassle of on-site server installation and system configuration, VSaaS is an ideal choice for small- and medium-sized businesses (SMB). It is more cost-effective than traditional video security solutions since users can spread costs out over the contract term and pay only for the services that are actually used.
What are some of Hikvision's products and the key features of some of these products?
Most of Hikvision's CCTV products have been upgraded to build-into AcuSense technology. This detects intrusion threats in real time and triggers alerts to users' mobile phones for faster response. AcuSense intelligently identifies people and vehicles. AcuSense technology is combined with intrusion detection or line crossing which allows a user to define an area where a target should be identified. AcuSense technology uses advanced machine vision AI algorithms built into Hikvision security cameras and video recorders to boost home and business security. Hikvision AcuSense technology uses a filtering system to classify targets as humans, vehicles, or "Other" objects. With a powerful deep-learning algorithm at its core, it can intelligently differentiate between moving objects like shadows, leaves, animals, and other such unexpected movements.
Today's new technologies have also empowered modern video cameras to see better in any light and in high resolution. Hikvision's security cameras with their signature ColorVu technology are great examples of this. These cameras guarantee video with vibrant colours  even in extremely dark scenarios. A next-generation series of the cameras goes even further, using 4K Ultra high definition (UHD) to deliver crisp images that provide richer detail.
On the access control side, we're also upgrading our fingerprint devices to include facial recognition as well. Hikvision Access Controllers offer users various functions of access control. With its high adaptability, the device is suitable for a range of different application scenarios, and can be integrated with various other devices, such as card readers, locks or push buttons, to satisfy any user's unique requirements.
Access control systems serve a critical role in any sensitive area, allowing only the right persons to enter at a given time. Multiple configurations cater to various budgets and needs, ranging from the simplest card reader to the now commonly used fingerprint terminals, to the algorithm-enabled facial recognition terminal. Hikvision's many devices – such as controllers, card readers, turnstiles, and door locks – offer you a complete and secure access control system.
As customer requirements grow more complex, a single solution can no longer fulfil every need. That is why you can combine our access control systems with various authentication methods such as ID cards, fingerprints, passwords, facial images, and QR codes, to name a few.
On top of basic functions, Hikvision hardware extends to advanced access management through anti-passback, combined authentications, interlocking, and more. And the professional management software makes device registration, management, and personnel registration much easier.
What are some of the products that are in high demand in the Middle East?
We have divided the market into four parts: Home users, SMB businesses, enterprise business and government businesses. For home end users, what is mostly in demand are hi-resolution videos and good after sales service. They also want their CCTV and other smart home devices to be linked, for easier use.
SMBs, on the other hand, are looking for reliable, cost-effective products. Enterprise clients look for integrated security features that are intuitive and easy to manage, while governments clients look for a centralised management platform of smart devices and so their demand for AI products is much higher.