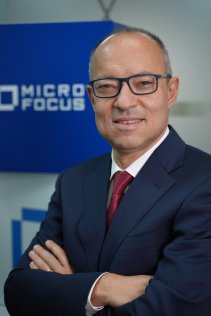 Toufic Derbass, Managing Director, Micro Focus, tells Anita Joseph about the company's participation at GITEX and the Hybrid Cloud Management X platform.
GITEX 2022, the much-awaited technology event, is here. How is Micro Focus making its presence felt at the show? What new solutions/products can we look forward to?
We're looking forward to meeting our customers and partners at GITEX this year. It's great to be present at such a gathering of technology companies from all over the region. We'll have 2 meeting rooms in Hall 3 with Micro Focus VIP Lounge to host and meet our clients-to discuss, debate and challenge new ideologies. We acknowledge global changes in our customers' need to move fast with digital transformation but keep running their businesses in parallel. We call it run and transform at the same time.
Tell us about Micro Focus' Hybrid Cloud Management X platform.
In recent years, companies around the world increased the adoption of cloud to support the Work from Home movement, lower their capital expenditures, and gain the speed and agility that cloud enables.
While the benefits of cloud are undeniable, we also have to address the disruption and complexity to the IT ecosystem-the hybrid, multi cloud ecosystem. Challenges include deficient governance controls and spiralling cloud costs – average overspending is estimated at over 30%.
Micro Focus Hybrid Cloud Management X or HCMX, was built to resolve these challenges. It is an industry leading solution, highly regarded by analysts and customers alike.
With HCMX you can expect to:
Significantly lower your cloud spend
Speed-up multi-cloud infrastructure provisioning, and
Ensure compliance with policy-based controls
What is the USP of this new platform? How will it help enterprises in their digital transformation journey?
HCMX enables IT to design deployment-ready, full-stack environments across on-premise technologies and public clouds. It unifies and automates provisioning, day 2 life cycle operations and de-provisioning, making sure you're governing the entire life cycle of those hybrid cloud services. Those services are delivered to end users with a unified self-service portal for on-demand consumption.
These offer an alternative approach to catalogue browsing, and guide end users to quickly find IT-approved offerings. On the other hand, HCMX provides strong governance and cost control, including flexible approval management, advanced cost reporting and granular budget management. Add to that, built-in Machine Learning capabilities to enable intelligent insights around reserved instance management, to help our customers optimise their usage and spending on public cloud.
HCMX is an enterprise-grade solution that supports you at scale, provides multitenancy, and can be deployed as SaaS, on-premise, or also on Hyperscalers. Unify your multi-cloud and on-premise operations, lower cloud spending, speed up provisioning, and ensure compliance – with automation and AI built-in. To get more information on HCMX, please follow this link:
https://www.microfocus.com/en-us/products/hybrid-cloud-management-x/overview