CNME Editor Mark Forker spoke to Leila Serhan, Public Sector Director, Microsoft UAE, at GISEC 2021, to learn more about the need for tech intensity, how the US technology leader is helping to drive the digital transformation of the UAE economy, and how the security landscape has changed since COVID-19.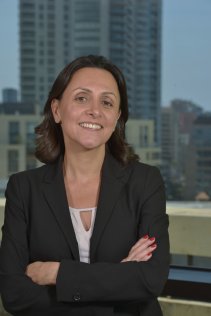 The term tech intensity has become prevalent since the onset of the COVID-19 pandemic as the need for greater resilience and agility has been exacerbated in the new digital economy, and Serhan explained what she believes defines tech intensity.
"Tech intensity is a term that our CEO came up with long before the COVID-19 pandemic, and it is all about a combination of the readiness, capabilities and technology adoption that companies really need to possess in order to be able to accelerate their own digital transformation", said Serhan.
However, she stressed that for all of this to happen you need the right ecosystem of partners and companies and cautioned against companies trying to reinvent the wheel every time they encounter disruption.
"There are certain technologies in the market that we label as commodity technologies and what that means is essentially how the company is going to take this technology and really build their own unique value proposition. So many companies and startups have access to the immense power of cloud computing, so they do not need to always try to reinvent the wheel. Taking advantage of cloud computing for any organisation will help them scale, save costs and go faster-to-market, and this is what we believe is tech intensity", said Serhan.
The Public Sector Director at Microsoft UAE also said companies that had already adopted this tech intensity mindset prior to the global health crisis had thrived and survived in comparison to those that came late to the game and had to make significant investments in training and new technologies, but she also highlighted the importance of trust.
"Tech adoption and capabilities do not work without trust. One of the areas of trust that we see is security. Our trust principles are based on a set of pillars, and one of those pillars is security. Digital transformation can not happen without security transformation", said Serhan.
Microsoft is known for the support it provides startups through their tailored programs and one of those is their Growth X Accelerator which has been a phenomenal success since its inception. Serhan explained the access to markets on top of knowledge and expertise is the value proposition that Microsoft gives the startup ecosystem.
"The Growth X Accelerator is part of a program that we describe as the highway to unicorn. We want to help these companies grow and become unicorns. Our role at Microsoft is to provide them with the tools and capabilities they need for their technical team to continue to grow, but the key differentiator we have at Microsoft is that we open markets for them across the 200 markets that we operate in. Once those startups are building on the Microsoft Azure platform, or the Microsoft 365 platform, or the Microsoft Dynamics 365 platform, we will then go and help them sell their product and solutions. We are a platform company and our value proposition to our customers and the startup community is you come and build on top of this platform, and we will help you sell it globally", said Serhan.
On June 19th, it will be two years to the day since Microsoft established their first datacentres in the UAE, and that has paved the way for a huge acceleration and adoption in cloud technologies and Serhan illustrated the incredible impact they have had in terms of fueling and cultivating innovation across the region.
"In a few weeks we are going to celebrate the 2nd anniversary of the opening of our datacenters here in the UAE. The type of growth that we have witnessed has been incredible, and that obviously has been accelerated by the COVID-19 pandemic, and we seen schools all go online through MS Teams supported by our datacenters. There have been so many sectors that have utilised the benefits of our datacentres", said Serhan.
GISEC is the flagship security event in the IT calendar in the Middle East, and Serhan reiterated Microsoft's commitment to security as fears over ransomware attacks and other bad actors continue to emerge.
"As I said before no digital transformation can happen without security transformation, so it's important for us to reiterate and reinforce to our customers and partners that there are tools available to organisations in the UAE that is going to help them to adopt and migrate to the cloud, and this will also remove a lot of the security concerns that they have. We invest more than $1bn in security every year, and for us security is critical. We do not build a product and then think about security, the security is embedded and built-in to every single service and product that we design", concluded Serhan.