CNME Editor Mark Forker secured an exclusive interview with Daniel Shearly, VP of Products at GfK onsite at the World AI Show in Dubai, to find out how the global market research leader is leveraging its new digital platform gfknewron to help their customers use their data to ultimately make better business decisions.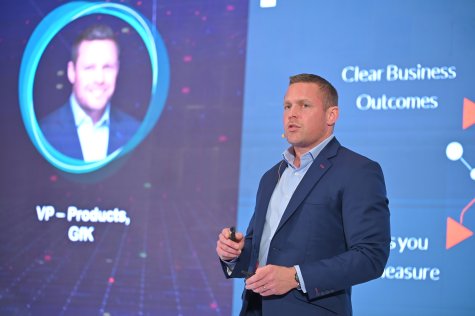 GfK was founded in 1934, and since then the company has been providing the consumer goods industry with cutting-edge data insights and intelligence in a bid to give them a broader understanding of their own business performance compared to that of their market rivals.
We know that data has become the new oil, and any business that doesn't harness the power of its own data to form its decision-making will simply not survive in the new experience economy that we now find ourselves immersed in.
GfK has been able to evolve and adapt over the decades because it has always embraced new technologies and change. The company underwent their own digital transformation journey in 2017, however, the launch of their gkfnewron in 2020 has really captured the imagination.
gfknewron is designed to revolutionise real-time access to critical knowledge and empowers businesses to make data-driven decisions to grow their brand and fuel their go-to-market strategies.
In a candid interview with GfK executive Daniel Shearly, we examined the impact of the gfknewron which has been categorised into three different products, which are gfknewron Predict, Market and Consumer.
"The way our business works is we take data from retailers, and as a value exchange they get access to our platform, which gives them market insights on how manufacturers are performing globally. The core products we have is gfknewron Market, which we sell to manufacturers, and then gfknewron Consumer and gfknewron Predict. Our market product is aligned to our traditional business which is all about telling customers about point of sale. However, as manufacturers there are lots of different questions they are trying to answer around their businesses, and we deal with almost limitless possibilities in terms of companies who may be planning a new launch in a market, or they could be trying to determine and establish if one of their products is being cannibalised by another, or what their direction competition is heading for a certain product – so there are lots of different ways they can use our data", said Shearly.
Shearly expanded on the capabilities of its gfknewron Market product by highlighting how it can give manufacturers access to 'consistent data' from different locations globally.
"What market does is provide an incredibly in-depth view of different markets globally, and the benefit of GfK is that we work across the world, so you can get like for like data across different countries. If you happen to be a large global manufacturer, then you will get consistent data and almost a global currency that you can understand in terms of how something is performing in one place compared to another", said Shearly.
According to Shearly the key component infused in their gfknewron Consumer product is the information they can convey to customers and clients as to why someone is buying a specific product.
"Consumer tells you all about who is buying products and why, so if market is telling you more about what features are driving sales, then consumer is more about why are they buying your product, and who are they? You can study new trends like sustainability, or other new ethical trends like privacy, but in general consumer gives you much more information about the intent as to why someone is buying", said Shearly.
Shearly, who delivered a fascinating presentation during his The World AI Show in Dubai, revealed that the gfknewron Predict is probably their flagship product.
"Predict is in many ways our flagship product, and a large portion of my presentation was focused on it. What predict enables our clients to do is instead of trawling through mass amounts of data that we have, it raises the key insights to the top, so you can make fast decisions based on our data. There are ways you can simulate different promotions so you can see by reducing your price how will that impact sales against other models. We also have forecasting, which will give you a better insight into what your sales will look like in the future, and there are different ways we can run simulations that will help businesses plan in terms of their future strategy – and that strategy can cover lots of things from marketing, supply chain, new products, planning and so on", said Shearly.
During his presentation, Shearly highlighted how traditionally, businesses relied on instinct, but he stressed that in the new digital economy If you want to be competitive then that attitude will no longer work and stressed the importance of establishing KPIs.
"What GfK has always been strong at is not just reporting the data, but we have an incredible commercial team who partner closely with our clients. In terms of manufacturers the most beneficial thing that they get from us is our industry insights, and that's what gfknewron does, it starts to tell the stories of that specific industry insight. Our customers and clients can come to us with help for their KPIs, but they will probably already know what they are. What we do is help enrich our clients and bring them data that could not get anywhere else", said Shearly.
Shearly reiterated the importance of visibility and declared that a key differentiator for them was the 'external view' that they can provide to their clients and customers in relation to their market competition.
"If I'm part of a large company then I can get good details about all the retailers, distributors, and promotions, but I have very limited visibility if none, without GfK in terms of how the competition is performing. We are not just bringing the internal view of what you are doing, but also the external view of what everyone else is doing. In terms of the KPIs there are things that we highlight through the platform like are your products being cannibalised, are your sales up or down, are your margins improving or decreasing? However, the real differentiator for us is having that consistent view against your competition, and without that wider context then it is very hard for you to know if you're missing out on a new niche, or a new product", said Shearly.
One other element in his presentation that Shearly documented was the importance of showing clear business outcomes to justify investments being made in new technologies such as AI.
Shearly highlighted how a major problem was the fact that companies were unwilling to fail – and they ended up throwing more and more capital at a specific project in a bid to save it, but according to the VP of Products at GfK, businesses must be willing to fail, and fail fast.
"When you do this type of work it costs quite a lot of money, and you will have heard horror stories of companies where they have refused to have given up on a project, so they have just piled on more and more money to solve it. You need to fail fast, because if you don't then suddenly people start saying AI doesn't work and it's too expensive. If you start to build small and simply then you can start to build up your internal capability and you can start to prove the impact, and if you fail fast then at least you can take learnings and then reapply it and try again", said Shearly.
Shearly added that when it comes to the success or failure of an AI project then it all really depends on the way your data is structured, the quality of it and if you had the right people to harness all of it.
"It fails when you've got traditional waterfall type companies that put all their chips in one basket, and say this is the project do it, but your capability might not be there yet, you might not have the right people and you just simply may not be ready to do it. For AI to work you need to have your data structured in the right way. If you're a business and you want to launch a driverless car then you're going to need AI, but it's really complex, so you're going to have to spend a lot of money, but you still need to start small and build out, whereas if you're a company that does loads of stuff, but doesn't really know where to use AI then you've got to look for the easy stuff first, such as manual processes, which are easy to automate. That allows you to quickly show the impact of AI and enables you to scale at the speed that works best for you – and our range of gfknewron product are empowering businesses to be able to do this to make better data-driven decisions faster", said Shearly.